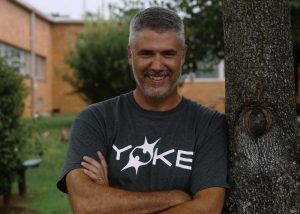 Thanks for taking a few minutes out of your day to keep up with YOKE and remember us in your prayers. September comes cooler weather, football, and most importantly another year of YOKE clubs in our local schools. A few of our clubs have already launched and the rest get under way over the next couple of weeks. We are still in need of volunteers at a few places so we appreciate your prayers.
Preparing my comments for our recent banquet gave me the opportunity to reflect on some of the incredible things that God has done through our ministry over the last 12 months. Our board of directors has grown, our budget has increased, we've got new team mates, and we've launched a new website. Our MVP program (monthly vital partners) now has nearly 100 members contributing more than $12,000 each month – that's an increase of 60% over the last couple of years!
As you read this month's news, I ask you to please consider how you might be involved in YOKE – as a prayer partner, a volunteer, or financial partner. Consider also which of your friends you could forward this update to. Thanks so much for your help. We're glad to have you on the team!