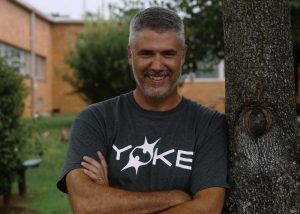 My heart is broken. This world is not as it should be, the way that God intended it to be. Kids are supposed to be safe and cared for. They go to school, graduate, and go on to great things. They're not supposed to be victims of violence in the street. How did we get here?
My neighborhood has lost three young students in three weeks. They came through Vine Middle, we saw them in the halls, talked to them at career day, coached them, and cared for them. Now I see the pain, anger, and even fear on the faces of their parents and their younger siblings. What can we do?
My neighborhood, like yours, needs the Good News of the Kingdom. We need to experience God's Shalom – more than just peace, we need wholeness, things the way that God intended them to be. We need the church to rise up. Those weren't "their" kids. Those were "our" kids and this is our problem. Whatever we're doing, it's not enough. We don't just pray and wait for Shalom, we cultivate it by being salt and light in our neighborhoods and demonstrating a different way of living life.
In this month's letter you'll read how programs like YOKE reduce youth violence through relationships. And you'll find a story from Powell about how that works. Would you join me this month in praying for Shalom? More importantly, will you join us in the work of cultivating it?