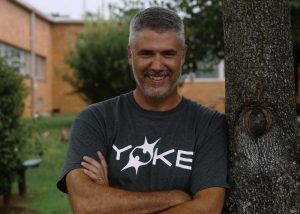 Thanks for taking a few minutes out of your day to catch up with YOKE and keep us in your prayers.  As our ministry continues to adapt to our ever-changing environment, you can be sure that we are doing everything that we can to connect safely with kids, encourage our leaders, engage local churches, and enrich our local schools. We are so thankful for the leadership of our board of directors, the partnership of the Knoxville nonprofit community, and the faithful prayers and generous support from folks like you.
We are missing camp again this month, but our staff and our volunteers are still working hard to connect with kids at each of the schools that we serve. We have secured off-campus locations for each of our clubs to gather safely and we have planned some special events to help our students develop healthy relationships with peers and mentors. Last month we launched Tuesday Night Live with YOKE, an entertaining way to engage students each week with a mix of live and prerecorded video streamed from our YouTube channel. Read more about all of our clubs in this month's letter.
Though we missed the opportunity to gather in person at our annual banquet, last month's virtual event allowed us to connect with friends and family all around the world. And the set we built continues to serve our Tuesday night live program. So far, the event has helped raise nearly $75,000 for YOKE. Read more about the event here.
Please continue to pray for God to protect and provide for our ministry. Pray especially for our teachers and school administrators as they serve our kids during this challenging time. And continue to pray for the physical and emotional health of our YOKE Folk and our YOKE Kids. Thanks again for stopping by. Now, more than ever, we're glad to have you on our team.