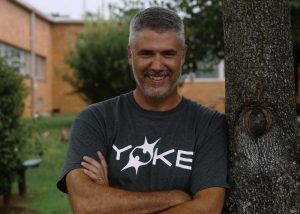 Thanks for taking a few minutes out of your day to catch up with YOKE and keep us in your prayers. The main question I'm asked these days is, "how is YOKE doing?" These are challenging times. We normally have one plan that works at 31 different schools. It feels like this year we need a minimum of 62 plans! Even within school systems, each school has different protocols and expectations that often require us to have a unique plan. And the ever-changing environment means that we often need a contingency plan for each school. I'm thankful for the diligent efforts of our  experienced staff who are working so hard to keep on top of each situation.
As our ministry continues to adapt to our ever-changing environment, you can be sure that we are doing everything that we can to connect safely with kids, encourage our leaders, and enrich our local schools. We are so thankful for the leadership of our board of directors, the partnership of the Knoxville nonprofit community, and the faithful prayers and generous support from folks like you. Here are a few items worth noting:
Tuesday Night Live with YOKE launched this week on our YOKE YouTube channel. A number of our dedicated volunteers have joined with our staff to create a fun and engaging way to connect with kids when we can't meet in person.
Our YOKE Virtual Luncheon is coming up Wednesday, October 14th at 11:30 am. Register as a guest, sign up to host your own table, or get your church, business, or civic organization to help sponsor the event. Check out all the details on our event page.
Be sure to check out all the ways that you can have an impact on the blog, including helping with club supplies from our Amazon Wish List.
Thanks again for stopping by. Now, more than ever, we're glad to have you on our team.