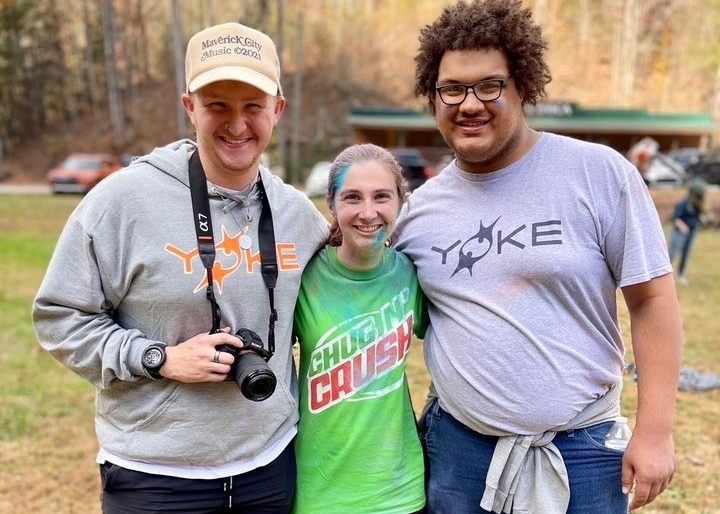 Last fall, we had the incredible opportunity to work with three interns, Craig Harwell, a senior at Maryville College; Emily Carter, a senior at the University of Tennessee; and Darius McClure, a YOKE Team Leader and Associate Pastor at Shelter Church in Maryville. The three became vital members of the YOKE team helping with administrative tasks, planning and leading our fall camp, and capturing and archiving media throughout the semester. While they were a tremendous help to our staff, each of them also benefited from the opportunity. We asked Craig to share his experience.
I came into this internship with the idea that it would be "work," but not necessarily "ministry."  However, my time spent at camps with the camera was my way of a breaking the ice with kids so that I can talk to them and really get to know them. Through my internship with YOKE, I really learned that ministry can be anywhere and should involve anything that you happen to be doing. 
Last semester challenged me by helping me live in that tension of work and ministry. There were times when I felt like I needed to do my job – capturing photos or videos. But during those times I also had opportunities just to sit and spend time with others. It was challenging at times to do both – split my time between capturing pictures and video, and spending time with others around me.
Last fall was my first YOKE camp, and I remember when kids were first beginning to show up. I was trying to take as many pictures as I could, but I saw this one kid sitting over against the wall by himself. I wanted to keep taking pictures, but I also wanted to go meet this kid and make a friend. I decided to walk up to him and ask if I could sit next to him. I had a camera with a zoom lens, so I was still able to take pictures while also getting to hang out with this cool kid. This was the first of many other moments that I realized photography could be ministry.
The best part about my internship was the overwhelming support I felt from the YOKE staff. There are times when I was scared or didn't know what I should be doing, but the staff was always there to help shepherd me and help me grow. If you're thinking about working with YOKE, I'd say prepare to be humbled. You will go in thinking you know things or thinking that you have a really good understanding of certain concepts, but God is going to change those. He is going to mold you and help shape your heart so that you can reach those around you in your own unique way. 
Craig enjoyed his time with YOKE so much, that he's decided to stick around. During this, his final semester in college, he'll also be helping us launch a new club at Alcoa Middle School. Darius had such a positive experience that he signed up for another semester of interning. In addition, he will continue to serve as a Team Leader at Eagleton Middle in Blount County. And Emily has joined our new team at Holston Middle. For more information about joining them or a YOKE club in your neighborhood, contact Sarah Scheafnocker at sarah@yokeyouth.com or 865-522-6907.