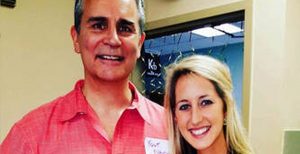 Brittany Charnley's life was so impacted by YOKE during her years at Bearden Middle School that she knew she wanted to always be a part of the organization. She went on to serve as a YOKE Folk for five years at Bearden, Farragut and Vine Middle Schools. When changes in her schedule made that kind of weekly commitment impossible, she decided to invest financially and became a YOKE MVP – a Monthly Vital Partner.
"Middle school is such an important time in a child's life," said Brittany. "They're learning so much about themselves and about the world. I loved getting to be there for them during that impressionable time. That's why when my time as a YOKE Folk ended, I still wanted to support YOKE in some way. As an MVP, I still get to be a part of the impact that YOKE is having in my community, even though I can't be there physically."
Brittany's father, Kevin Shick, is grateful for the impact that YOKE had on both of his kids, so he, too joined the team.  "I wanted to become an MVP because I've seen the dedication that YOKE has to serving youth," said Kevin. "I know they're making a difference because I see how happy their leaders are to invest in kids, and how excited the kids are to be involved."
The faithful, generous support of these MVPs is vital to YOKE's continuing ministry.  These individuals commit to making a monthly financial contribution to sustain programs at 30 middle schools in Knox, Blount, Jefferson, Anderson, and Grainger counties.
You too can impact your community by becoming an MVP today. It's easy set up your recurring contribution online. Simply click the button below to get started. For information on setting up a monthly EFT, contact Cindy Carter at (865) 522-6907 or cindy@yokeyouth.com.