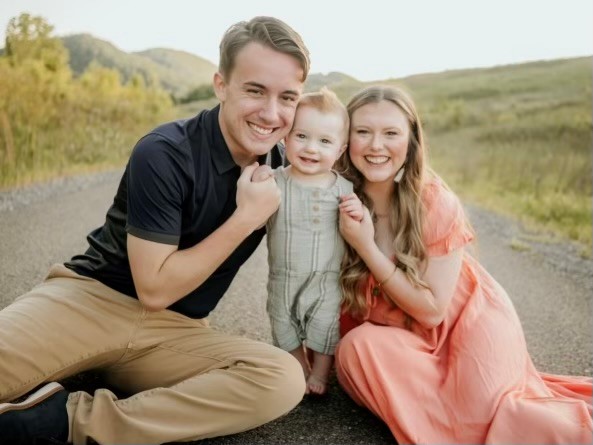 If you had known Tori when we met her as a middle school student, you might have had trouble picturing her as a future leader. Her childhood had been a nightmare. Her memories of her dad, when he was around, involve addition and abuse, and her mom wasn't much better. Perpetually unemployed, she also struggled with addiction, cycling from relationship to relationship, in and out of Tori's life. When she was home, Tori recalls scenes of anger and addiction. She never knew if there would be food in the house, and she was often told that she was hated.
At 14, after years of bouncing between relatives' homes, Tori convinced an aunt to take her and her brother in for good. Her mom relinquished her rights as a parent, and for the first time Tori could remember, they experienced some peace and stability. In her new home, Tori entered the eighth grade at Northwest. "I felt abandoned, unloved, and betrayed," she recalls. "I was looking for love but didn't know where to find it."
Tori quickly made friends, and together they discovered YOKE. There they met Laura, one of the YOKE Folk. "We went hiking and shopping, had sleepovers, and she quickly became one of my best friends," said Tori. "She showed me what is was like to have a positive female influence in my life."
Tori credits YOKE with saving her life. "It saved me from the damage I was doing to myself – the sin I was living in, that would have eventually killed me. Through YOKE I learned that I am saved, forgiven, adored, and beautiful."
As a freshman at UT, Tori decided to get involved in the ministry that changed her life. "I wanted to help other girls find their identity in Christ and introduce them to the same unconditional love that I had found in him. I wanted to show these kids love, because that's what YOKE showed me – and I have never been the same."
Through mutual friends in YOKE, Tori met Tucker Hardin. Though he was a college student in Kentucky at the time, Tori and Tucker started dating and eventually married. After they were married, Tucker started serving in YOKE as Team Leader at Gibbs Middle. While he served as Team Leader, Tori had to work Tuesday nights, but she stayed involved hosting the team at their home, putting the club box together, and serving at camp.
Today, Tucker and Tori have a one-year-old son, Wesley. Tucker is a Special Education teacher in Union County and is working on a master's degree in educational leadership. Because of her ministry with YOKE, Tori changed her major to social work and now serves as a supervisor at Helen Ross McNabb's Family Treatment Center. There she helps children and moms in recovery.
Tori's mom recently passed away, but Tori says that God worked to redeem their relationship over the last few years. "There was so much healing for both of us in those last few years of her life, restoration in spaces I thought were broken forever," explained Tori. "As a young person, I never thought my mom would be at my wedding, but she was there and actually helped me into my wedding dress."
"When I went into social work, I said that I would never work with addicts, because it hit too close to home," explained Tori. "It feels like the most redemptive thing, though. I'm honoring my mom by helping women like her and children like me. Sometimes I wonder how life might have been different for us if we had the opportunity to participate in something like what I am doing now."
Several of Tori's former YOKE kids are now serving in YOKE as YOKE Folk themselves. "You hear so much about making disciples who make disciples, and I am really starting to see that come to fruition," said Tori. "It's a ripple effect. I am really so proud of them. They are young and could be doing a million other things with their time, but they are choosing YOKE and making disciples themselves."