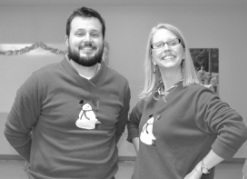 Leadership is not seniority, position, a title, etc. John Maxwell says, "Leadership is influence—nothing more, nothing less." When I was a YOKE Folk, we used to call YOKE's Winter Retreat "Winter Leadership" because like Maxwell said, we spent the weekend learning how to be purposeful in our influence of middle school kids.
While winter retreat is designed to be lots of fun (food, late night Apples to Apples, food, meeting new people, Rook tournaments, food, being at camp, food, skits) my hope is that God will hone all of our leadership skills. The retreat is Friday night, January 10th, through Saturday, January 11th. We will wrap up around 3 o'clock in the afternoon. It's for all current and prospective YOKE Folk in all counties, so bring your friends! No kids…just Team Leaders and YOKE Folk learning what it means to be better YOKE "leaders." It will be a lot of fun—and who knows—maybe we will get snowed in! It has happened before!
For a Winter Retreat packing list,
click here
.
And don't forget to
RSVP
!!