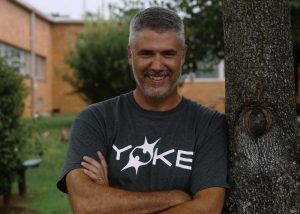 Thanks for taking a few minutes out of your day to catch up with all that God is doing through YOKE and to remember us in your prayers. It takes an enormous team of partners, volunteers, and financial supporters to be able serve students at 30 middle school. We're extremely grateful to have you on that team!
As part of our efforts to continue learning and growing, our team reads books together and discusses them during our team time. We started off this year with The Passion Generation, a book about understanding and engaging millennials by Grant Skeldon. In the book he asserted that many millennials have rejected the church for one basic reason: we have asked too little of them.
"Why is the most cause-oriented generation in the world neglecting the most cause-oriented organization in the world, the church?" he asked. "Because we have taken the greatest cause ever and watered it down to attending an event. Merely showing up Sunday and inviting all your friends is just not that compelling."
Jesus started a movement that changed the world by investing his life in a handful of followers. He didn't give them a lot of instructions on how to construct buildings, which curriculum to use, or planning a worship service. He shared his life with them. They did stuff together.
With your help, that's the kind of movement that we're striving to build through the ministry of YOKE – inviting young people to join us in the greatest cause ever. From our staff, through the volunteers, and down to the kids that we serve, we're investing in people by sharing our lives with them – as our mission statement reads, helping them discover their identity and purpose in Christ. Skeldon concluded, "Jesus' last words should be our first priority." Thanks for joining us in this movement.