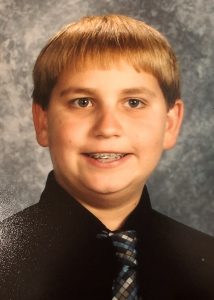 My middle school years are not a period of my life that I particularly like to revisit. School was difficult, I didn't have a lot of meaningful relationships, and I didn't really understand what it looked like to have a relationship with Jesus. So how did I end up working for a middle school ministry?
I grew up in Chattanooga, and when I graduated high school in 2012, I enrolled in UT Chattanooga to study Civil Engineering. I wasn't passionate about engineering, but I didn't really know what path God had in store for my life. During college, I got involved as a volunteer with the high school ministry of Cru. While I had been involved in the church my entire life, working with high school students ignited a spark in my faith that I hadn't really experienced before, and I knew that I wanted more of it.
Around the same time, I began touring with a worship band around the southeast on the weekends. As much as I loved playing music, one of my favorite parts of that time was when we would play at youth camps and conferences. I loved connecting with the students and watching God work in their lives, and that made me think even more that maybe God wanted me to work with students in some way. For a couple of years, Cru and the worship band were the places I was finding discipleship, community, and purpose, so when college came to an end, I felt stuck. It seemed like getting a full-time engineering job would put an end to both of these things that had become so important to me, and I didn't know what God wanted me to do next.
After graduation, I ended up moving to Knoxville to participate in the Knoxville Fellows program. I fell in love with the Knoxville area, and knew that this was where I wanted to be. It was during my time with the Fellows that I first I heard about YOKE. It sounded like the student ministry I had been involved with in college, except that it was for middle school students. That would scare some people off, but not me; I had always loved middle schoolers.
Not long after the Fellows program ended, I got an email from a friend saying that YOKE was hiring. Within minutes, I had sent my resume to Jonathan, and a few short weeks later I started my current role as the Blount County Area Director. I've worked for YOKE for more than 2 years now, and I've loved every minute of it.
When I tell people that I love working with middle school students, they sometimes look at me like I'm insane. And yes, I get it. Middle schoolers are wild, crazy, messy, disruptive, and more. But they're also passionate, authentic, open minded, trusting, and hungry to experience the world. I love that YOKE chooses to invest in middle school students—not just because they need mentors and caring adults in their lives, but also because they're a lot of fun.
One of my favorite things that we do at YOKE is our Summer Adventures program. It gives students a chance to try new things and get out of their comfort zone. Putting a bunch of middle schoolers through a new outdoor adventure every week can be chaotic and exhausting, but it's always worth it when I see how meaningful these experiences are for our students. Last year, when we rafting down the Pigeon River, one younger student in my raft was terrified. He didn't want to even step into the boat, but I challenged him to be brave and he gave it a shot. I think he was a little mad at me as he struggled to paddle through the rapids, getting splashed with cold water, but we made it through. Recently, I ran into this student while visiting his YOKE Club.
"Eli!" he said, running up to me excitedly. "Remember when we went rafting last summer? That was so awesome. I wish we could do that again every single day." Working with middle school students isn't always easy, but it's always worth it.