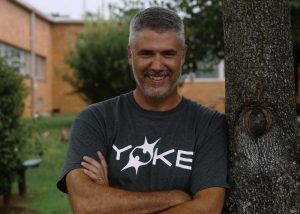 Thanks for taking a few minutes out of your day to catch up with YOKE and keep us in your prayers. As our ministry continues to adapt to our ever-changing environment, you can be sure that we are doing everything that we can to connect safely with kids, encourage our leaders, and enrich our local schools. We are so thankful for the leadership of our board of directors, the partnership of the Knoxville nonprofit community, and the faithful prayers and generous support from folks like you.
As always, this time of year is very busy. With colleges resuming, we've been busy recruiting students to join our team. With local schools settling into their new routines, we've been connecting with leaders and partners in each county – and in some cases, at each school – working to come up with alternative plans for our program. Like many of you, our contingency plans now have contingency plans, but the extra work is worth it in our tireless effort to be where the kids need us the most, when they need us the most. Read more about our plans here. 
We've also been working hard to come up with a safe alternative plan for our annual banquet, normally held near the end of August. We had originally postponed the event until October, but we've decided that, even then, it won't be a good idea to get 700 guests together in one spot. You can read all about our new plan in this month's letter. Your participation will be vital to the success of our event, so we hope to "see" you on October 14th. Thanks again for your support. Now, more than ever, we're glad to have you on our team!