The holiday season is one of the busiest times of year. There are many factors that dictate this fact. There are celebrations to be had, family to see, gifts to buy, and on top of all of that it is the end of one year and the beginning of a new. In essence it is the traditions that keep our schedule so full of family time and our bellies so full of ginger bread and hot chocolate. Some traditions are widely celebrated and are a common experience shared across all social classes. Other traditions are developed within our own circles of family and friends. Some traditions begin intentionally, others on a whim. Some traditions we know how they started and why we observe them, others we don't want to know where they came from. But our traditions are part of what makes this time of year so special, so we wanted to share some of our own favorite traditions.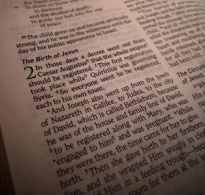 ELI
My favorite holiday tradition has always been the reading of the Christmas story in Luke's gospel. This has been a family tradition for as long as I can remember. As a kid, my grandfather was always the one who would slow down the excitement as the meal ended and the rush to open presents ensued. I clearly recall the order of events at my grandparents house as a young kid:
-everyone shows up for Christmas dinner, food smells great, presents under the tree
– all the kids quickly eat their dinner and hurry to the foot of the tree waiting anxiously for our parents to finish eating
-Finally, everyone finishes eating. My dad always seemed to be the last; I am sure he did that on purpose. The family gathers around the tree
– My grandfather would always say the same thing, "Before we open presents, let's take time to remember what Christmas is really about."
– "It came to pass in those days…"
– prayer
– …then we would tear in to the presents
Nothing profound was said. No explanation was even given; it was just THE STORY. Now, as an adult, I have seen this tradition passed down to my dad, and from time to time he will ask me to read the Christmas story to the family. It is a simple tradition, but a tradition that I am very thankful for being started.
DOUGLAS
My family has many different traditions throughout the holiday season, and I'm extremely thankful that I am still at a stage in my life where my whole family has the opportunity to celebrate together. One of my favorite traditions that has come about more recently is how we open presents together on Christmas morning. I can't imagine having enjoyed our current system as a kid, but as an adult I appreciate the time it takes. Instead of everyone ripping into their presents all at once we take turns opening our presents individually. This gives us the opportunity to see what sort of gifts had been given, who got what, and who else got Christmas presents that I could use! But ultimately it has taught me to enjoy giving as much as receiving. Now I get to see my aunt open and appreciate the gift I bought her, and see the joy when my mom opens that present my sister was so excited about giving her. It has become one more way of celebrating together; it has protected Christmas from becoming any more self-centered. It has helped keep the season sacred by reminding us it is as fun to give as receive. 
LEAH
New Years is a low key time for me and my family.  My mom insists on serving black eyed peas at lunch New Year's Day for good luck with all our holiday leftovers.  My dad raised two girls who love college football.  So basically New Years Day to our family means….football bowl games…all…day…long.  It's glorious!  Sacked out in pajama pants watching game after game as a family.  Sadly this year neither of the family schools will be in a bowl game…Rachel and I are VOLS and Dad is a GATOR…so no bowl victories for any of us.  We'll need to eat more black eyed peas for better (football) luck in the New Year. 

Traditions are great at helping us remember why we celebrate. They bring back pictures of our faith, they remind us of glorious celebrations with our family, and they give us an excuse to do silly stuff with our friends. Whatever holiday traditions you are celebrating this week we hope it is full of good memories and joy. Our hope is that you had a very merry Christmas and have a very happy New Year in store!