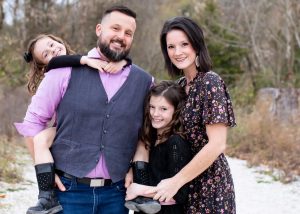 Impact. When I think about that word, I picture an object colliding with another causing it to change direction, like a bat to a baseball. In 1993 I stepped foot into Halls Middle School for the first time. I struggled to find a place to fit in until I landed at YOKE. There are many stories I could share from YOKE during middle school but the most vivid memory I have is one that seems to be so minor at first but as I look back was one of major impact.
I assume it was a Tuesday, and I am sure rectangle school pizza was on the menu, but as I sat in the cafeteria talking with friends, I looked up and saw that iconic YOKE t-shirt come through the door. It was a handful of YOKE folk coming to eat lunch with those of us who had been to YOKE and to invite those who had not. That's it. That's the story. Why was this so impactful? I can take you to the very location in the cafeteria of Halls Middle School that I was sitting when MY YOKE Folk walked in and came to have lunch with me. Here was a guy that I had only known for a few weeks, that cared enough to stop what he was doing that day to come and have lunch with me. He gave me his time and created an impact.
Seven and a half years ago when I joined the YOKE team it was that memory, that moment of impact that I wanted to be a part of for the next generation of YOKE Folk and YOKE students. I could be a part of creating impact to change the direction of other people's lives – and we have!
The impact that my YOKE Folk had on me has continued to influence my life. When our daughter, Blair, entered kindergarten, Heather and I made a commitment to be involved parents, wanting the best for our girls. As we got involved at the school and begin building relationships, we began to see the needs of the families in our community. What began as being involved, supportive parents for our girls evolved into a burden for our school. You see, loving your neighbor means wanting all the same things for them that you desire for your family. We got involved, trying to make an impact wherever we could, often giving our time and energy for school events.
It is that passion and desire to serve our community that prepared our hearts for what comes next. At the end of March, I will be stepping away from YOKE to open CommonPlace, a community coffee shop in our neighborhood of South Knoxville. I could fill pages with all the ways that God has confirmed this decision to us. Our hope, and what we believe God is calling us to in our neighborhood, is to give our neighbors what my YOKE Folk gave me all those years ago – time. I will still be doing YOKE, just not in the context of our middle schools. We will be using the context of a coffee shop to build relationships and come alongside those who have questions about Jesus. We will give these people our time hoping to create impact.
From Campbell, Blair, Heather, and myself, thank you to all who make YOKE happen. YOKE has been an amazing place for me to grow in my personal ministry. Heather has cherished the friendships and opportunities to speak into your lives. Blair and Campbell both cried for fear of not getting to see the many volunteers who have loved and cared for them. We are not leaving the area, so we hope to still be involved in YOKE in some form or fashion. Naturally, you are all invited over for a cup of coffee at the new place.
Eli Cockrum