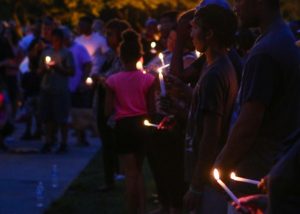 Our community has seen a significant increase in gun violence this year. Through February 24th, there had been 13 fatal shootings in Knoxville this year, up more than 300% over the same period last year and part of an alarming national trend. Though the violence has been scattered across the city, the community served by Austin East High School (and Vine Middle) has been reeling, losing three students in less than three weeks to gun violence.
Violence has other effects as well, with long-term impact on physical, mental, and emotional health. Adverse childhood experiences (ACEs) can affect a variety of health outcomes over the course of a lifetime. Its victims are more likely to get caught up in more violence, suffer with addiction, participate in high-risk sexual behavior, experience depression, and drop out of school. Violence impacts whole communities, too, increasing health care costs, driving down property values, disrupting social services, and hampering local businesses (source: CDC).
Our community has responded in a variety of ways. YOKE is already part of the Empower Knox initiative, which exists to "remove barriers, address persistent opportunity gaps, and build strong, lasting bridges to success for Knoxville's sons ages 14-24." Knoxville is part of Cities United, a national network of mayors who are committed to reducing the epidemic of homicides and shootings among young Black men. The city has committed an additional $1 million to assist in crime prevention.
You, too, can be part of the solution. The CDC recommends 6 measures to reduce youth violence, one of which is to "connect youth with caring adults and activities." Research indicates that students with mentors demonstrate improved behavior at home and at school, have stronger relationships with parents, teachers, and peers, and have improved interpersonal skills. They have a better attitude about school, lower dropout rates, and higher educational and career aspirations. Additionally, they demonstrate decreased violent behavior and are less likely to get involved with drugs or alcohol.
By volunteering with YOKE, you'll benefit from more than 4 decades of experience working with youth, a tested program, a community of passionate teammates, and you'll be placed right where students need you the most – in their school. Contact us today about volunteering and become part of the solution our kids are searching for.