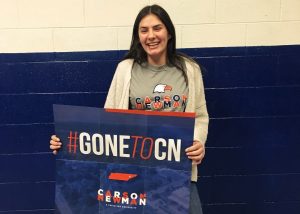 YOKE is successful because of the scores of passionate, faithful volunteers that serve as mentors in the program – we call them YOKE Folk. These young leaders serve for a variety of reasons, but two are especially common. Either they serve because of the impact that YOKE had on their lives as a middle school student, or they serve because they WISH they had a program like YOKE as a middle school student. Kelly Chilcote, now in her second year serving in Jefferson County, is one of the latter.
Kelly, a native of Chattanooga, is a sophomore at Carson Newman majoring in Cross-Cultural Sociology with a minor in Environment and Community. She is also a Faith and Justice scholar and that's how she first learned about YOKE.
"I know what it is like to be a middle schooler, and I know that these years can be the hardest time in one's life," explained Kelly. "I know what it's like to be searching for all kinds of answers from God, or just feeling confused about life in general."
Even amid her own pain and confusion, Kelly also found hope through the positive relationships that she had with mentors. That's why she was so eager to serve with YOKE.
"There were so many people pointing me toward Jesus and that's why I am where I am now in my own walk with him," she said. "I want to be that same person for a middle school student."
Kelly's favorite part of serving with YOKE is simply the opportunity to be in relationship with students. While she has already had an opportunity to impact their lives, she admitted that they have impacted hers as well.
"I've gotten to see the love of God in them, and I can see myself in them too," she explained. Kids have shared some of the most heartbreaking things with me but being able to pray with them and encourage them during those times has been an unforgettable experience."
While mentoring middle school students isn't always easy, Kelly assures others that it is worth it. "What these students need most is for us to just keep showing up, to be involved in their lives because often they don't have anyone else," she explained. "That's what Jesus would do."
YOKE looks a little different right now because of the Covid-19 pandemic, but students need us now more than ever. As we head into the second semester, there are plenty of opportunities to get involved. Check out our clubs page to find one near you. Fill out the volunteer application to get the process started. If you'd like more information, contact Eli Cockrum at 865-522-6907 or eli@yokeyouth.com.
"If you're on the fence about serving with YOKE, I encourage you to hop on over," said Kelly. "You won't regret it."