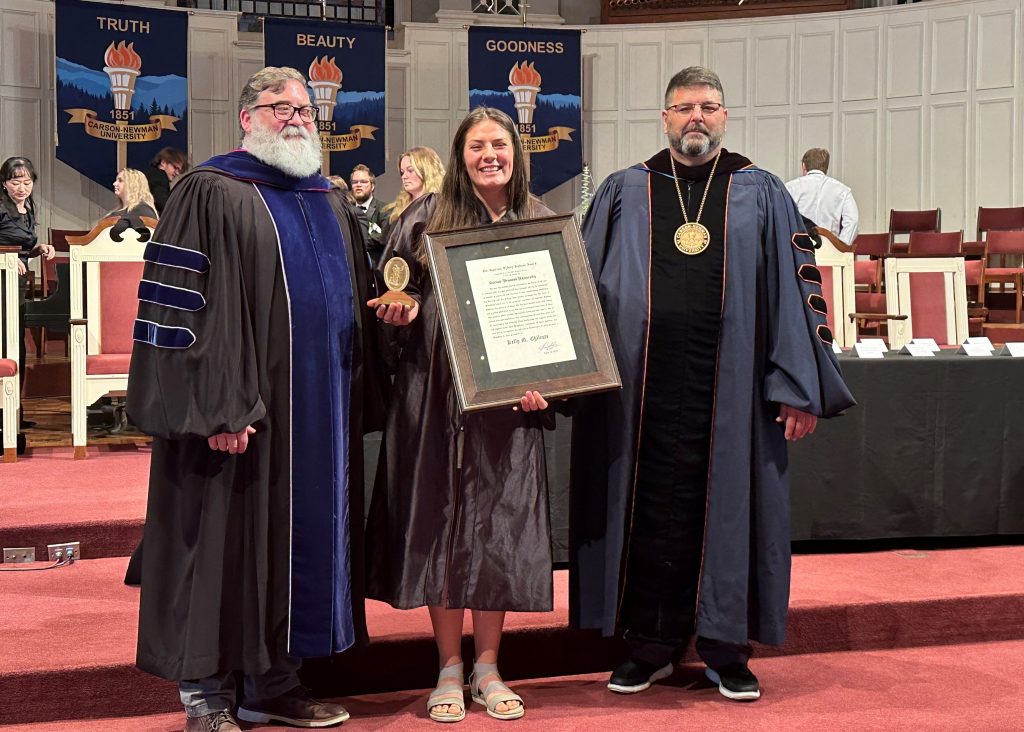 Kelly Chilcote, a YOKE Folk who graduated this year from Carson Newman University, was honored with the prestigious Algernon Sydney Sullivan Award, the highest honor the University presents to students. The award was first presented by the membership of the New York Southern Society, co-founded by U.S. President Grover Cleveland, and recognizes "college students and members of the college community who have demonstrated noble character and acted as humble servants, placing service to others before self-interest." (Source: Sullivan Foundation)
"Kelly is the best of the best, a shining example of what it looks like to honor Christ in everything you do," said Dave McNeely, who advised Kelly in the University's Faith and Justice Scholars program. "During her time at Carson-Newman, Kelly set herself apart for the width and depth of her compassion and her unparalleled passion to serve others and make a difference in this world. I'm especially thankful to YOKE for providing not only an opportunity for Kelly to serve, but also for investing in her and developing her leadership and service capabilities."
Kelly got involved with YOKE early in her freshman year, serving with the team at Jefferson Middle. Her ministry there was interrupted by the Covid-19 pandemic and when schools began to open back up, she initially served at Maury Middle before returning to Jefferson for her senior year. She credits YOKE with helping her to understand the importance of teamwork.
"YOKE has taught me that I cannot do it all on my own," Kelly explained. "I am very outgoing, so I tend to gravitate towards the kids that are also outgoing. I realized quickly that I cannot connect and minister deeply to every kid, but when we come together as a team, we can love all the kids well."
YOKE also has taught Kelly a lot about leadership. "I've heard it said that leadership begins at the feet of Jesus," she said. "To lead is to serve alongside others. I am learning that I lead best when I allow Jesus to lead me."
In addition to YOKE, Kelly also served as the Outreach Team Coordinator for the Faith and Justice Scholars and volunteered with Renovatus Recovery Community. She was president of the Forensics Team and won 1st prize for the State of Tennessee in persuasive speech. She was a member of Alpha Chi, Tri-Alpha, and Mortar Board Honor Societies. While at Carson Newman, Kelly also participated in missions trips to Las Vegas, New Orleans, and South Africa. She graduated with a degree in Cross-Cultural Sociology with minors in Missions and Criminology.
Kelly said that the thing she will miss the most about YOKE is the relationships she was able to build with middle school students. "I care so deeply for them that it feels like I'm leaving a piece of me behind," she reflected. "I am just grateful I was able to be a vessel for those kids to catch a glimpse of Jesus' love through me."