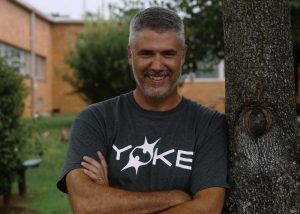 Thanks for taking a few minutes out of your day to catch up with YOKE and to remember us in your prayers. Our lives and our normal flow of ministry have been disrupted in ways that we couldn't have anticipated. With our schools closed, many of our volunteers have been sent home and our clubs are unable to meet. We had to cancel our spring camp and the golf tournament will need to be rescheduled. Like you, we are doing our best to isolate and work from home.
I want to assure you, though, that though our methods have changed, we are still working hard to foster a sense of community, encourage the YOKE family, and make disciples of Jesus even in isolation. We're sharing weekly devotions from our staff and our own YOKE stories on the blog. And each weeknight we're doing live interviews on Instagram with members of the YOKE family. In addition, our team has also compiled a list of reflections from Scripture that you can download here.
Our YOKE Folk have been active as well. They've been recording YOKE talks along with some of their favorite skits and songs for us to share. Our local volunteers have signed up to deliver meals to families and kids stuck at home. Most importantly, they're working hard to maintain those relationships with kids over the phone, social media, and even video games.
Follow along on Facebook, Twitter, Instagram, and YouTube. Now, more than ever, we're grateful to have you on the team!