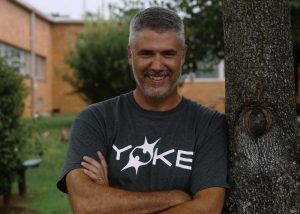 Thanks for taking a few minutes out of your day to catch up with YOKE and keep us in your prayers. As our ministry continues to adapt to our ever changing environment, you can be sure that we are doing everything that we can to connect safely with kids, encourage our leaders, and enrich our local schools. We are so thankful for the leadership of our board of directors, the partnership of the Knoxville nonprofit community, and the faithful prayers and generous support from folks like you.
Considering the circumstances, our annual YOKE Golf Classic last month was a great success. You may remember that we moved the event from May to July this year because of the Covid-19 pandemic. Even though the event was outdoors, we worked hard to protect our staff, volunteers, and guests by implementing social distancing requirements when the crowd was together and encouraging mask usage. 17 teams competed in the tournament and we raised $18,000 for our organization – just $3,000 shy of last year's high. Special thanks to our presenting sponsor, Home Federal Bank. For a full list of our sponsors, visit our event page. You can find the pictures on our Facebook page.
We're still working hard to connect with kids. In this month's newsletter you can read all about one way we did that this summer. We're also working hard to recruit new leaders for the fall. If you know anyone who might be interested, please share with them this month's story about the Wilbanks family and the impact that YOKE has had on their lives. Thanks again for your support! Now, more than ever, we're glad to have you on our team!