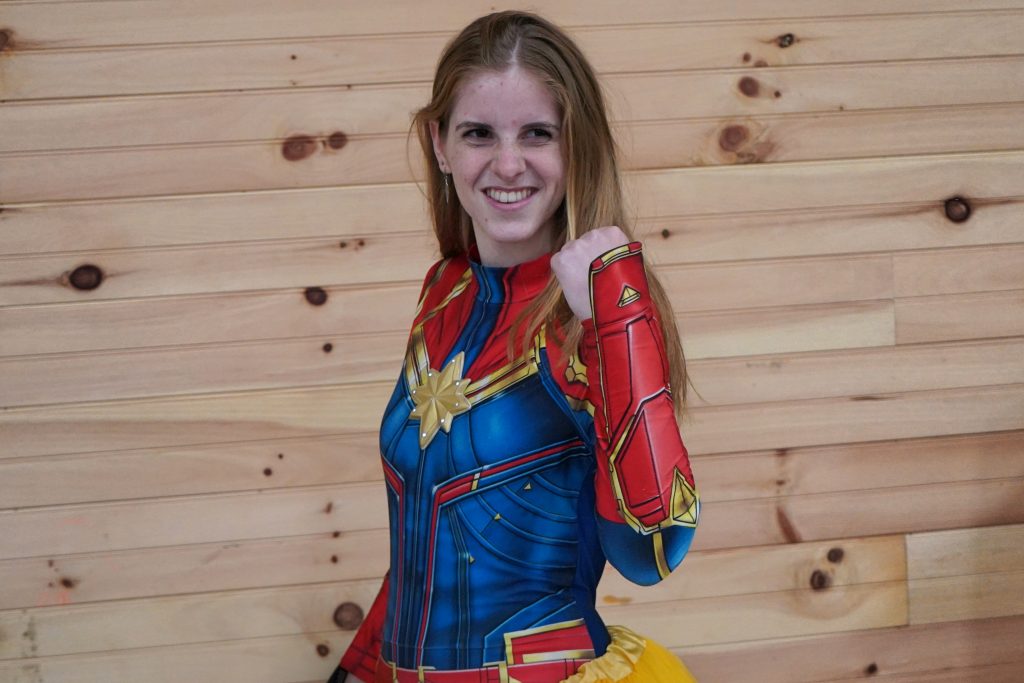 The start of a new school year means there are lots of opportunities to join YOKE's team and make a lasting impact on a middle school student. Who knows? You could even become a superhero like Haley Kuban.
Haley got connected with YOKE when she saw the display at Pellissippi State. As she began to ask questions, she felt drawn to both the community and the ministry that YOKE offered. She signed up, grabbed a YOKE shirt, and began the journey that would lead to her role as Captain Marvel.
She was disappointed when her first semester schedule kept her from regularly volunteering at a local club, but she refused to give up. Coulter Grove (Blount County) team leader Bill Fikes described Haley as a team player, and she has certainly demonstrated that.
Despite not being able to serve at a club, she still volunteered to help with last fall's Superhero Camp. This gave her the opportunity to meet some kids, serve in the kitchen, help with games, and build relationships within the YOKE community. When her schedule opened up in the spring, she was ready to fly.
Haley joined the team at Coulter Grove and played a crucial role in helping the club more than double in size. When asked how they accomplished that, Haley replied, "we just go where the students are instead of expecting them to always come to us."
Haley visited students every week during lunch, building relationships with them and inviting them to club. "Once people have a conversation with Haley about YOKE, whether it's volunteers or middle school students, it's just something that they want to do," added Bill.
"Everyone knows that middle school can be tough," said Haley. "I love having the chance to help students grow into who God created them to be" She's grateful to YOKE for providing that opportunity.
Haley says she continues to serve with YOKE because of the relationships she has formed and the lives she has impacted. "I always leave YOKE with a smile, and I want others to have that experience," she explained.
If you would like more information on how to become a superhero with YOKE, contact sarah@yokeyouth.com or visit our volunteer page. As Haley says, "this welcoming community is impacting students in your community and is open to you!"