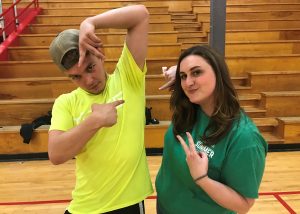 Big Club is the official launch of a new year of clubs, and also a great time to see what YOKE is all about. Big Club is just that – a REALLY big club! Our talented YOKE staff plans and leads a club for team leaders, veteran YOKE Folk, brand new YOKE Folk, and potential YOKE Folk.
It's a fun time to connect with the staff, with your team, and with YOKE Folk serving at different schools. We'll cover all the bases, from leading songs and games to chug-n-crush best practices and giving a talk. And of course, no YOKE Big Club is complete without – YOKE Theater!
This year we have a special treat – Big Club will be held at the Change Center, 203 Harriet Tubman Street in Knoxville. The Change Center houses a skating rink, climbing wall, arcade alley, café, and entrepreneurial center. After Big Club is over, you'll have time to gather with your team and plan some clubs, then the skating rink will be open to everyone!
Itinerary:
6:00 pm Check-in
6:30 pm Big-Club
8:00 pm Team Time
8:30 pm Free skate (lasts until 9:30)
The Café will be open if you want food, so bring money. Don't forget socks for skating! For more information, contact your area director or Eli Cockrum at (865) 522-6907 or eli@yokeyouth.com.
*This event is for YOKE Folk and potential YOKE Folk only. Sorry, kids!