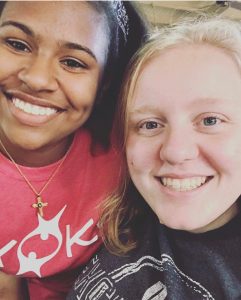 No matter what neighborhood it is, the transition to middle school is a tough one. Students are trying to exert some independence from mom and dad, while simultaneously trying to find their own place in the changing world around them. Author and speaker Josh Shipp often says "every kid is one caring adult away from being a success story." That's been our experience at YOKE. Often, one YOKE Folk can make the difference. That was certainly the case with Erika Claridy.
"When I started 6th grade, I was kind of shy and prone to anxiety attacks," explained Erika. "A friend invited me to
YOKE that year and it was a blast! YOKE was my safe place and really helped me come out of my shell. I always felt loved and accepted there."
It was Erika's relationship with her YOKE Folk, Abbey, that had the greatest impact on her life. "I was drawn to Abbey because she was hilarious and because she was tall like me," said Erika. "But the more time we spent together, I realized how much we had in common. I really felt like she understood me and why middle school was so hard because she had been through that herself."
Erika remembers that Abbey was the first person who ever talked to her about having a relationship with Jesus. At first, she didn't know what that meant, but Abbey helped to explain it and, more importantly, demonstrated it. It was at YOKE Camp during her eighth-grade year that Erika decided to follow Jesus herself. "I'll always remember how excited everyone was for me," she recalled.
Like most YOKE Kids, Erika's favorite memories are from camp. "I loved the food!" she exclaimed. But even more than the food, she enjoyed the community around the table. The quiet times in the cabin were meaningful as well. "I remember all of us sharing stuff we were going through and our YOKE Folk were able to speak into each circumstance with Scripture and experience and just remind us that we were not alone."
Erika's relationship with YOKE didn't end that year. She stayed connected to Abbey and to Future Folk, YOKE's leadership development program for high school students. This year, as a senior in high school, Erika will be joining the team as a YOKE Folk and serving alongside Abbey at the same school she attended. "I can't wait to be there for students the way Abbey was for me," she explained. "I just want to invest in as many kids as possible!"
Like many of the kids that we serve, Erika would never have been able to attend camp without the generous financial assistance that donors like you provide. Fall camp is just around the corner and there are lots of kids that need your help. Would you consider making a gift to impact the lives of middle school students like Erika?
It costs approximately $125 to send a kid to camp, so your gift could help in the following ways:
$125    Send 1 YOKE Kid to Camp
$250   Send 1 YOKE Kid and their YOKE Folk to Camp
$500   Sponsor a Cabin
$1,000  Sponsor a Club
Make checks payable to YOKE and mail to P.O. Box 3492, Knoxville, TN 37927 or CLICK HERE to make a secure gift online anytime.