Each of the 30 schools where YOKE operates represents a community that is being transformed by God's Kingdom. At YOKE, we are always looking for opportunities to learn from people and organizations who are doing similar work in their own communities, as well as share with others what God is doing through YOKE. For this reason, four of YOKE's staff attended the Christian Community Development Association (CCDA) national conference last week in Dallas, Texas.
The CCDA is a network of Christians whose mission is to inspire, train, and connect those who seek to bear witness to the Kingdom of God by reclaiming and restoring under-resourced communities. The annual CCDA conference is an opportunity to learn from and share with other Christians who are doing Kingdom work all across the country.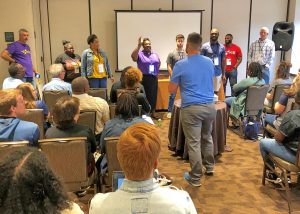 Our team also had the privilege of leading a workshop at the conference on school-based leadership development. Our team shared YOKE's model of ministry with more than 60 people from all over the country who were seeking to learn how to positively impact schools in their own communities. Workshop participants learned about the history, programs, and vision of YOKE, and were provided with practical tools they can implement in their own context. In order to give them a taste of what a YOKE club is really like, they also got to participate in a classic YOKE club activity: the Mountain Dew Chug & Crush. The workshop received great feedback and many guests expressed excitement about applying what they had learned in their own context.
"When I think about my childhood, there aren't a lot of good memories," said one participant. "As a product of brokenness, hopelessness, and institutionalization, I know that programs like YOKE make all the difference."