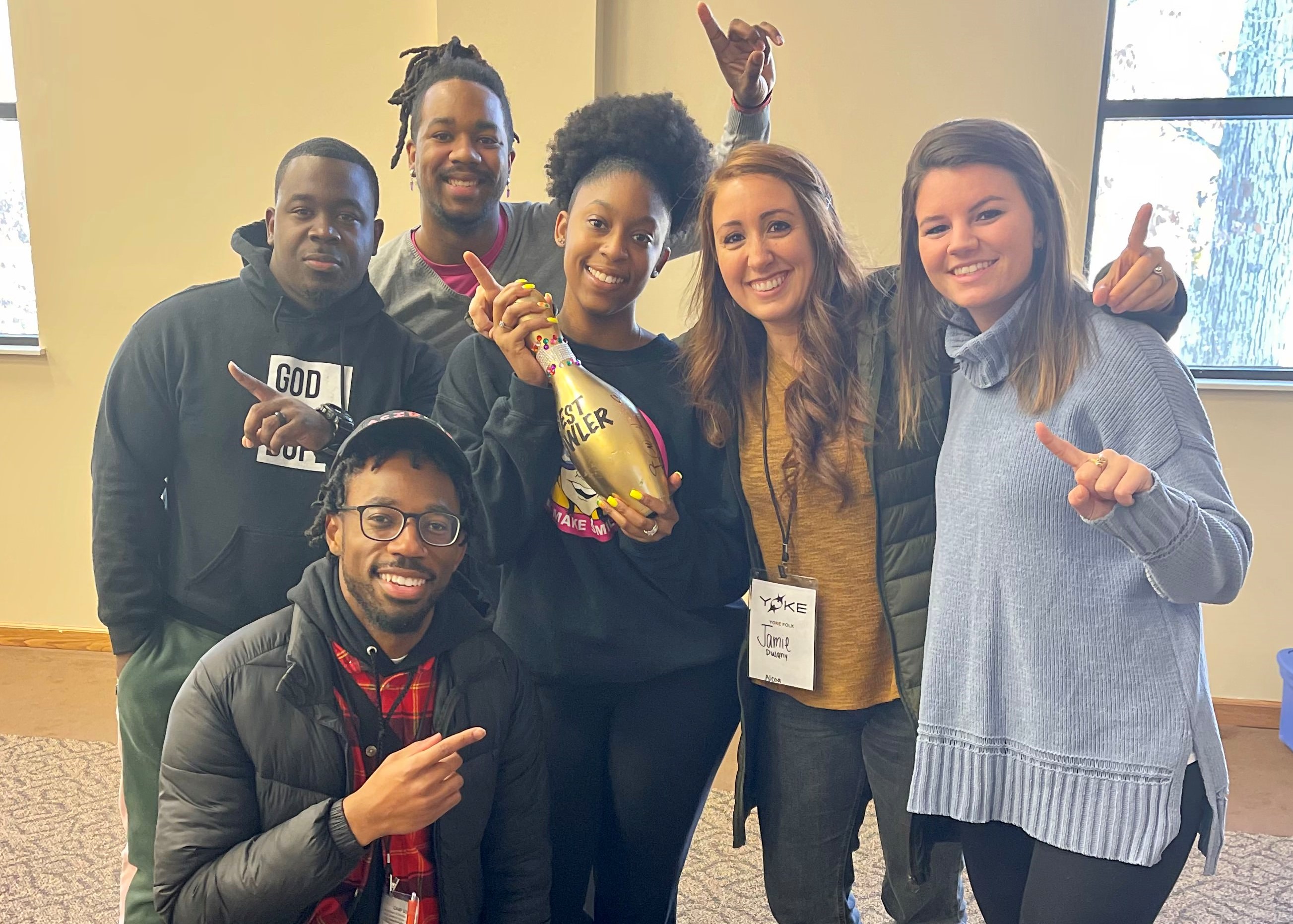 YOKE's mission is to impact middle school students by equipping passionate, faithful mentors to help those students discover their identity and purpose in Christ. Our annual Leadership Summit is just one of the tools that we use to equip those mentors. Obviously, this passion is rooted in the Great Commission, Christ's charge to make disciples everywhere that we go. It's also important to us because it fulfills the Apostle Paul's instructions to Timothy – to teach what we've learned to the next generation who will then be equipped to teach the next generation.
More than 100 YOKE Folk, staff, alumni, and guests came together for this year's Summit at the Carson Springs Conference Center in Newport. Our goal was threefold: to foster a sense of community, to provide refreshment near the middle of our school year, and to help equip our leaders, not just for their weekly service with YOKE, but for a lifetime of ministry. With some thorough planning and a lot of hard work from our dedicated team, we managed to accomplish all three.
YOKE Board Member Matthew Best was our keynote speaker for the weekend. Matthew serves on staff at Johnson University and is an assistant pastor at Children of God Ministries in Mechanicsville. Worship was led by Seed Co., a group of gifted young artists from Carson Newman University. A number of YOKE alumni joined us for workshop sessions on such topics as making club fun, kid time ideas, and developing an effective club talk. We also had workshops on studying the Bible for yourself, serving alongside your spouse, and discerning God's call for your life. YOKE Founders John and Helen Coatney joined us for breakfast and shared stories from their time leading the ministry.
On Saturday afternoon our whole group participated in a Cost of Poverty Experience led by our partners from Compassion Coalition and The Restoration House. "Going through this simulation has really impacted the way that our team serves," explained program director Sarah Scheafnocker. "Because poverty is something that so many of our kids have to deal with, we wanted our leaders to share in this learning experience."
For two hours, participants had to navigate life in the role of a family struggling with poverty. Each profile is based on a real-life family yielding a more authentic experience for participants. Families had to navigate work and unemployment while paying for their rent, utilities, and groceries with limited resources. As is true in life, the simulation also throws some curve balls, like when school closed for a week due to a Covid outbreak and families were forced to make other arrangements for their kids.
"This was a wonderful experience," said Bridget Beam, team leader at Northwest Middle School. "It really opened my eyes to the realities that our neighbors struggling with poverty face." "Eye-opening" was a word that YOKE Folk Maddie Morgan also used. She added that the real stories that COPE uses "gave a real glimpse into their real struggles."
Thank you for investing in YOKE so that we can continue investing in leaders. For more information on the Cost of Poverty Experience, visit the website or contact Charmin Foth at charmin@compassioncoalition.org.