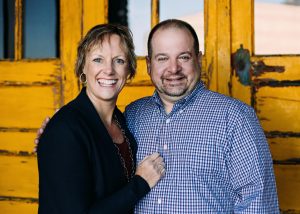 An MVP, or Monthly Vital Partner, is someone who has made a monthly financial commitment to support the ministry of YOKE. That monthly commitment, no matter the size, provides a dependable stream of income that enables YOKE to do much more than simply pay the bills. It sustains the life-changing ministry to middle school students and college leaders throughout our community. YOKE has around 100 MVPs that provide a reliable $12,000 in income each month.
Vicki Arpino moved to Knoxville almost 25 years ago when she and her husband David were married. Together they have three children and two grandchildren, a 9-year-old grandson and a 7-year-old granddaughter. "We love spending time with our family and are grateful that they also live in Knoxville," said Vicki.
Vicki works as the office manager for a Knoxville nonprofit and David is a Physician Assistant with East Tennessee Medical Group. They first heard about YOKE at the annual banquet.  "When our kids were in middle school, we were blessed to have a church with a very active youth program and that group had such a vital impact on their lives, not only through their teenage years, but also as they became adults," Vicki explained. "I know that many students in the Knoxville area don't really have that same opportunity, but YOKE offers them a chance to grow, learn, and engage in so many aspects of life."
Vicki and David became YOKE MVPs in 2018 and are excited to be a part of YOKE's team. "By supporting YOKE, we are helping to give our next generation an opportunity to find their identity and purpose in Jesus, to become leaders in their neighborhoods, and to know that their dreams are possible."
You, too, can have this kind of impact by becoming an MVP today. Visit our giving page to create your profile and set up your monthly gift by credit card. For information on setting up a monthly electronic funds transfer, contact Cindy at 865-522-6907 or cindy@yokeyouth.com.