For months we've been joking about putting 2020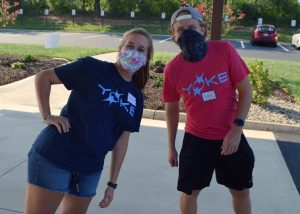 behind us and looking forward to the prospects of a new year. 2020 truly was a uniquely challenging year for all of us and while we don't want to minimize the trials or the loss, we recognize that a lot of good things happened as well. We'd like to celebrate those with you and give God our thanks.
Board of Directors: We added 4 new members to our board of directors this year – including two YOKE alumni – bringing our total number to 12. Through their wise counsel, advocacy, and sacrificial giving, these valuable partners have helped us navigate a most challenging year.
YOKE Folk: We had one of our best recruiting seasons in a while, adding lots of new volunteers. These front-line workers have helped YOKE stay connected with middle school kids in a variety of creative ways.
New Club: Back in January we welcomed a new team at the Greenback School into the YOKE Family. Their ministry, which has continued strong through the pandemic, brought our number to 31 schools in 6 counties.
Innovation: During the first 3 months of the quarantine, YOKE's increased presence on Facebook Live, YouTube, and Instagram resulted in more than 25,000 online engagements. When the new school year arrived, our talented YOKE Folk helped us launch Tuesday Night Live, a live streamed virtual club on YouTube. We were also able to connect with kids and leaders at several in-person events including an outdoor game night, a YOKE takeover at Skate Town, and a socially distanced movie night.
Partnerships: One of our core values is collaboration and we looked especially hard for ways to be a good partner during the Covid-19 pandemic. As you know, many families in our communities have come to rely on our school systems as a source of food during the school year. Our friends at the KnoxEd Foundation made it possible for students learning virtually to get packaged food from Knox County Schools, but needed help delivering it. Between March and December of 2020, YOKE staff and volunteers delivered more than 1000 meals to these students.
Two Successful Events: While many of our nonprofit partners had to cancel all fundraising events in 2020, we still held versions of our 2 main events. The annual YOKE Golf Classic was postponed until July but raised more money than ever before. Our annual banquet was postponed, then converted to a virtual event held in October. If you missed it, you can still check it out – and give! – here.
Faithful Partners: We have right around 100 MVPs (Monthly Vital Partners) that contribute approximately $12,000 a month to YOKE. We also have many local churches who partner with us through their monthly giving. Throughout 2020, this commitment has never wavered, providing a steady, dependable stream of income that enabled us to keep reaching kids in our community. As a result, YOKE is headed into 2021 completely debt free.
Whether you are a volunteer, a financial partner, or support YOKE through your prayers, we thank you for walking with us through a most memorable year. We're glad to have you on the team!