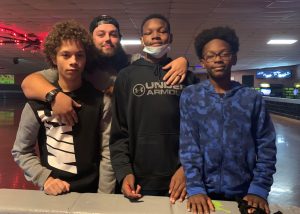 While no one could have anticipated how differently our ministry would look in 2020, we have continued to adapt and gain new ground. One lesson has been confirmed to us repeatedly this year. The key to effective ministry is not the program, but the relationships that result. Zac Watson, YOKE Folk at Robertsville Middle in Oak Ridge, is a great example.
"Zac is one of those YOKE leaders that just gets it," said Stephanie Enger, Area Director for Anderson County. "He understands middle school boys and their need for a positive role model."
With parents in ministry, Zac grew up in church. He decided to follow Jesus as a middle school student but did not get serious about his faith until after high school. "I never stopped going to church, but I just went through the motions," he explained.
That all changed when he met Emily, who is now his wife. With her encouragement he began to take his faith more seriously and joined a small group. There he met Josh Kirk, a YOKE Folk at Norris Middle, who invited him to YOKE. He was immediately hooked!
"I love YOKE because it is a Kingdom-minded ministry that meets kids right where they are," said Zac. "I know how important the middle school years are in a kid's life and I wish someone had invested in me at that age."
Robertsville averaged 8 students a week during Zac's first semester there. Rather than giving up, he became a fixture at the school, showing up regularly for lunch and athletic events. He encouraged the kids to invite their friends but decided some motivation might help. If they could get 40 kids at club, he promised to cut his hair into a "mullet." It worked and the club has continued strong even through the Covid-19 pandemic.
Zac has bonded with three students in particular, Javon, Serious, and Qhyvez. He tries to connect with them each week, meeting them for lunch, cheering them on at football, or just playing video games together.  The boys have begun inviting their friends to club and have even joined Zac for some church events.
"I want to help them become better adults," explained Zac. "We talk about everything from the importance of hard work to how to treat women with respect. That is what I love about YOKE – the opportunity to share Jesus and shape the next generation."
"Zac is showing them what a godly man looks like by his example and the way he interacts with them," continued Stephanie. "His boys are learning lessons from him that will serve them well the rest of their lives."
As a partner with YOKE, you, too, have an opportunity to help shape the next generation. Would you consider making a year-end contribution to develop leaders like Zac, Javon, Serious, and Qhyvez?
Send your check to YOKE at P.O. Box 3492, Knoxville, TN, 37927. Or CLICK HERE to make a secure gift online anytime.
We are grateful for your partnership!