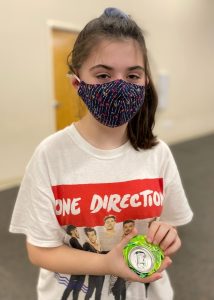 YOKE's after school clubs are the highlight of the week for many of the middle school students that YOKE serves. Filled with games, skits, songs, and concluding with a devotional talk, our clubs are designed to meet the physical, social, and spiritual needs of middle school students. Due to the COVID-19 pandemic, YOKE has had to get creative when it comes to connecting with students during the 2020-2021 school year. Even though things look a little different for the time being, we believe middle school students need caring adults in their lives now more than ever.
Our top priority right now is keeping everyone safe and healthy. All of YOKE's clubs are taking the same precautions that our schools are in order to prevent the spread of COVID-19. Many clubs are currently meeting at off-site locations, and some are meeting virtually. Whether in-person or online, there are plenty of opportunities for middle school students to get involved with YOKE this year!
In-Person YOKE Clubs:
Blount and Loudon County – Contact: Eli Smith
East Area Schools (Jefferson Co., Grainger Co., and Carter Middle) – Contact: Eli Cockrum
North Area Schools (Anderson Co., Powell, Halls, and Gibbs Middle) – Contact: Stephanie Enger
City of Knoxville Schools – Contact: Daniel Lee
West Knoxville Schools – Contact: Leah Carter
Tuesday Night Live
If your school's YOKE Club isn't meeting in person just yet, we still want to connect with you! Every Tuesday night at 7pm, we are streaming a Virtual Club on YouTube Live to bring the fun of YOKE to you at home! If your school is not meeting in person (or you would prefer to participate in YOKE virtually right now) join us for Tuesday Night Live with YOKE!
If you have any questions about YOKE this year, you can reach out to program director Eli Cockrum at eli@yokeyouth.com, or contact our office at (865) 522-6907.