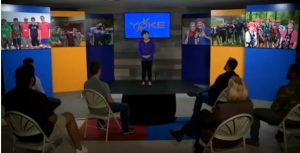 On Wednesday, October 14, we aired YOKE's first ever Virtual Luncheon. Our annual banquet, typically held the last week of August, is a highlight of our calendar and provides a great opportunity to reconnect with old friends and celebrate what God is doing through the ministry of YOKE. Due to the Covid-19 pandemic, we originally postponed the event, and then switched the format to a virtual program.
Once again, we enlisted the help of our friends from Stellar Visions and Sound. Eddie Speeks and his team designed and built a set that was perfect for the event, but is also useful for Tuesday Night Live, our virtual club that we stream live each week at 7 pm. If you watched the event, you probably wondered where we were and were surprised to learn it was the YOKE House.
Desirée Jones, principal at Vine Middle Magnet, kicked off the event by describing how she has seen YOKE mold students into leaders. Drew Freeman, a former YOKE Folk who for the last two years has served as chair of the board of directors, shared how our ministry has adapted and continued to transform communities in the midst of a global health crisis. Finally, we introduced some of our volunteers from Rutledge Middle School in Grainger County and explained how they have grown their team by developing local leaders.
Though we missed meeting in person, there are a couple of really cool things about a virtual event. First, you can view it from anywhere! We had guests from around the world that logged on, participated in the program, and donated. Second, if you missed it live, you can watch – and donate – anytime! In fact, you can check it out now! Watch the program below or click here to visit our event site.
Thanks to the hard work of our board, the support of all our sponsors, and the generosity of people like you, we have raised nearly $75,000 so far. Those funds will help us continue to mentor middle school students, equip young leaders, engage local churches, and enrich local schools in every community we serve.