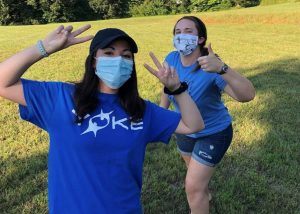 As you can probably imagine, the spread of Covid-19 has presented a new set of challenges for YOKE's ministry.  These new circumstances have a lot of people wondering—what is YOKE doing this semester?
Although things certainly look different this year, our YOKE Folk are still working hard to connect with kids. Ever since schools closed in March, they have been staying in touch with students through phone calls, messaging, and even virtual clubs. As a new school year begins and students head back to in-person classes, YOKE will be offering new opportunities for many of our students to safely gather in person with their YOKE Folk with extra precautions taken to prevent the spread of Covid-19.
While some of our clubs will continue to meet on school property, some will be moving to off-site locations for the time being. Our teams will be communicating this information to students by all means possible, so pay attention to the school's announcements for updates. In order to keep students safe and healthy, all of our clubs will be implementing the same safety measures that schools are. This includes temperature checks upon arrival, cloth face coverings worn by students and leaders when distancing is not possible, frequently sanitizing surfaces, and staying outside as much as possible.
In addition to resuming our in-person clubs, our teams are looking for any chance to be a resource to the schools they serve. We have already had YOKE Folk helping to deliver meals to students, performing service projects at the schools, and more. As the year goes on, we will continue to look for opportunities to come alongside our schools and help them navigate all of the new challenges they are facing this year.
Though many things have changed in the recent months, we are certain that every student needs a caring adult to walk alongside them through times of uncertainty. As always, YOKE is committed to meeting the physical, social, and spiritual needs of middle school students by providing fun and safe activities that produce meaningful relationships with peers and mentors.
YOKE is still looking for young adult leaders to serve at a YOKE club this semester. If you're interested in joining the YOKE family, we'd love to hear from you. You can fill out our online application, or reach out to program director Eli Cockrum at eli@yokeyouth.com with any questions.