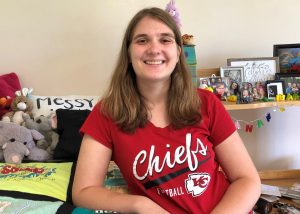 Join us in welcoming Alanah Drum to the YOKE family! Alanah, a psychology major at Johnson University, is completing her senior internship with YOKE this year. Alanah grew up in Georgia, but her family moved to Scottsburg, Indiana in 2018. During this transition, Alanah chose to continue her education at Johnson. Alanah is the oldest of four daughters, plays the trombone, tells the worst (in her opinion the best) puns, and (thanks to her fiancé) loves the Kansas City Chiefs.
Alanah chose to study psychology because of her to desire to be a high school guidance counselor, loving and supporting students at school. "I have had a passion for students since high school," said Alanah. "I want to show students that there is someone who cares about and supports them, even if they don't happen to experience that at home."
Alanah is a pastor's kid and, though this was transformational at home, it sometimes led to bullying at school. "Sometimes people would stop conversations when I came over or call me names," said Alanah. "I had to learn how to stop letting it get to me, for me to keep my faith and love in Christ strong no matter what others said." The experience helped develop her empathy and passion for other students, a quality that will no doubt serve her well with YOKE.
The internship, a result of YOKE's ongoing partnership with Johnson University, demonstrates the organization's core value of leadership development. "Certainly YOKE is known as a ministry for middle school students, but we're so much more than that," explained executive director Jonathan Haskell. "Whether you enter our program as a middle school student or as a young adult, our goal is to inspire and equip leaders for a lifetime of service in their communities."
As part of her internship, Alanah will experience the full spectrum of nonprofit ministry, from helping with administrative duties in the office to serving with kids at a middle school. Alanah is delighted about the opportunity to serve with YOKE this year. She described it as the perfect combination of everything she was searching for. "I am looking forward to serving God while serving the students in my community," she said. "I cannot wait to share God's love with students, to share my story and listen to theirs, to laugh together, and to grow closer to Jesus in the process."