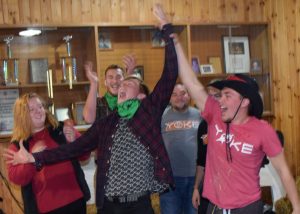 Like you, our lives and our normal flow of ministry have been disrupted in ways that we never could have anticipated. Following the guidelines of the CDC, we're working from home and coordinating our schedules via Microsoft Teams. With schools out for the foreseeable future, many of our YOKE Folk have returned home and our clubs are unable to meet. We've had to cancel our spring camp and our golf tournament, so vital to our fundraising efforts, will have to be postponed.
In addition to the defensive measures that we've taken, we wanted you to know that we've developed an offensive game plan as well. We want to continue fostering a sense of community, encouraging members of the YOKE family, and helping our community follow Jesus even in isolation. With those goals in mind, here's what we have planned.
Weekly Devotions. Each Monday morning, one of our staff will be sharing a devotional thought over social media.
Weekly Club Talks. YOKE club always ends with a talk where YOKE Folk share an inspirational thought from Scripture. We've asked our YOKE Folk to keep helping us out with these and we'll share them on social media each Tuesday night.
YOKE Theater & Worship. Our YOKE Folk have recorded some of their favorite YOKE skits from home, and some have even recorded their favorite worship songs from club. We'll be sharing those on social media throughout the week.
Staff YOKE Stories. Each member of our YOKE staff will be sharing their own YOKE story. You'll learn how they got to YOKE and what they love about working here. Find these on our social media or right here on our blog.
YOKE LIVE! Each evening at 7 we're doing a live interview on Instagram with someone from our YOKE family. You might get to hear from YOKE Folk, YOKE Kids, a board member, or a community partner and you'll have a chance to ask your own questions. Mark your calendars so you remember to join us!
YOKE Talk Podcast. If you haven't checked out YOKE Talk, yet, you should give it a shot. Click subscribe on your favorite podcast app and never miss an episode. These interviews usually come out on Friday mornings, so keep an eye out on social media.
Scripture reflections. In times of uncertainty, we lean hard on the things that we know to be true. As a reminder of those things, we've compiled some scripture reflections on peace, courage, and fear. We'll be sharing these daily on social media, or you can click here to download the .pdf.
Now, more than ever, we're grateful to have you on our team. Please continue to pray for health and safety for our team, and God's continued provision for our ministry. We look forward to seeing you again soon!