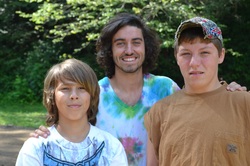 Since YOKE started in 1977, its mission has remained constant – to connect middle school kids with Christ. Staying up with current culture, technology, and methods has become an important part of the staff's job as they seek to improve ministry to students and better equip them for living a life for God. But despite the many changes the ministry has seen over the years based on trends and culture shifts, one thing has remained a constant – Kid Time.

Kid Time, which used to be called Contact Work, is the heart of YOKE's ministry to middle school students. YOKE Folk commit to spending two hours per week building relationships with students through various activities – YOKE Folk might meet kids for a simple lunch at McDonald's or Cookout, or they might plan something more elaborate like a scavenger hunt or trip to Dollywood.

The focus is to connect with specific students the way that Jesus connected with his 12 disciples, living life alongside students for the purpose of getting to know them and earning their trust to speak into their lives when opportunities come up.