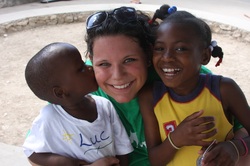 Pictured: Samantha Gross, a Halls Middle YOKE Folk Alumna, with some children from Haiti
We are so proud of the accomplishments of our YOKE Folk and Team Leaders. Throughout the school year they devote 5+ hours to serve middle school kids in their communities.

Our leaders are heavily active in their local churches to glorify God and help bridge the gap for YOKE kids who don't have a church and getting them plugged into a local congregation. 

As school ended, the majority of our volunteers gave up their entire summer to continue sharing the Gospel in different ways.  We have leaders who are doing short term mission trips (foreign and domestic), interning at churches, partnering with other non-profit organizations, working at summer camps or leading worship for events. 

Be praying for our leaders as they selflessly follow the instructions of Jesus to "Go and make disciples…" (Mat. 28:19). Please pray for safe travel and a fruitful end to their summer projects.

Listed below are the names of the YOKE Folk we were able to track down for the summer. If we missed someone, please post a comment or let us know on Facebook. We would also love to hear your stories from the summer. Feel free to write on our Facebook wall or send us an e-mail at yoke@yokeyouth.com and your story may end up on the blog!

Chris Bell, Camp Ba Yo Ca

Carlos Harmon, Big Creek, KY

Brittney Kirby, Big Creek, KY

Donnie Criswell, Internship at his home church

Jon Marshall, New York Dream Center

Kayla Anthony, Oak Hill Day Camp

Megan Branch, Nicaragua

Brittany Mockbee, Bosnia

Samantha Gross, Haiti

R

ebecca Mullen, Crossings Camp

Ben Semeraro, Carolina Creek Camp

Libby Alcala, India

Aaron DelgadoCamp Ozark

Faith SmithCamp Ozark

Laura Moore, Cape Town South Africa, Dominican Republic

Chad Daugherty, Phillipines

Julie Ogle, Malyasia

Kara Cooper, Summer Camp

Bridget Newcomb, Haiti

Jacoby Yarbro, Memphis

John Johnson, Memphis

Brandy McConkey, Camp Skyline

Rachel Shaunessy, Guatemala

Douglas Graves, Ohio

C

arter Brown, Camp Ba Yo Ca

Josh Bisig, Camp Ba Yo Ca

Heather Moses, Camp Ba Yo Ca

Casey Hodges, Camp Ba Yo Ca

Josh Brooks, Camp Ba Yo Ca

Josh&Amy Churchwell, Camp Ba Yo Ca

Tally BarwickCamp Ba Yo Ca

Ian BarryCamp Ba Yo Ca, 

Maryland

Laura Beth BarryCamp Ba Yo Ca

Anna Grace BarryCamp Ba Yo Ca

C

lark HaslerCamp Ba Yo Ca

Caroline EichornCamp Ba Yo Ca