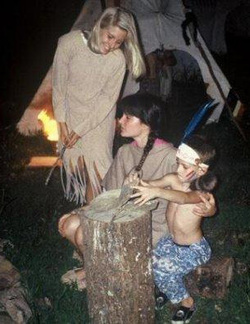 Pictured: (from the right) Leah McRae, Heather Cockrum, and Chase Snyder (current staffer, then age four!)

YOKE Story by Leah McRae
Cast your memories back….way back to the days of tight rolled jeans, slightly big hair (although we'd deflated some since high school), and Bass Buck shoes. Ahh the early 90's. It was then that I heard about YOKE.  I was a sophomore at UT and practically lived at the BSU…that's BCM for you current students.   I kept hearing about Yoke from all my friends and thought…now this is something I could do!  I signed up and was assigned to Karns Middle School in 1991 and 1992.

I have great memories of clubs, crazy skits, leadership retreats and the two biggies of YOKE back then….the Rockerthon and the dreaded Mud Slide.  I remember hauling rocking chairs to churches for a day of rocking, talking, and fundraising; now we send out support letters…it's much easier.

The Mud Slide…if you've never experienced it…well there are just no words.  After going down the Mud Slide you find mud in places you never knew existed!  You find mud for days… you think you're clean….but you aren't.  Ha ha! Just imagine so much mud covering everyone to the point that you honestly cannot recognize each other!  Yep, that's what I signed up for!  And loved every minute of it.

Well, time has passed; I graduated UT and have worked many years in the social service and adoption worlds.  The Lord has now led me back to YOKE.  He has given me the opportunity to work full time with YOKE and serve him by serving students!  What a great place…YOKE combines so many of the things I love…middle school kids, Camp BaYoCa, the BCM, ministry, and fun!  But thankfully…it doesn't involve the Mud Slide anymore!

I look forward to getting to know the YOKE Folk, kids and learning the new traditions!