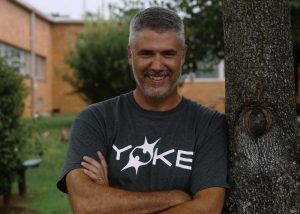 Thanks for taking a few minutes out of your day to catch up with all that God is doing through YOKE and to remember us in your prayers. Many times this month I've been reminded about the total team effort required to serve at 30 different middle schools and we're grateful that you're part of that team.
This month's newsletter features stories about two of the highlights of 2019 for me. In October we had the opportunity to share YOKE's model of ministry with more than 60 people from all over the country at the Christian Community Development Association's national conference in Dallas. We don't really have plans for YOKE to become a national organization, but we're grateful for opportunities to inspire and equip individuals, churches, or nonprofit organizations to reach middle school students in their own communities.
Everyone looks forward to fall camp and this one is no different. I love seeing new kids as they connect with each other, with their YOKE Folk, and with Jesus. I love interacting with our YOKE Folk and watching them come alive in ministry. I especially love to see all the former YOKE kids serving – as Future Folk, YOKE Folk, and even YOKE staff. This camp we have the additional privilege of having a former YOKE Kid back as one of our guest speakers. Former YOKE Kids having an impact for the Kingdom of God is a win that we can all celebrate! Thanks for all that you do to help make that possible.