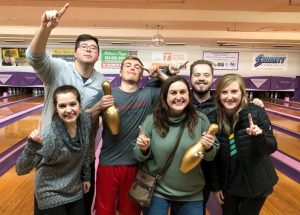 One of the ways that YOKE transforms communities is by equipping young leaders. The annual Leadership Summit is the highlight of our leadership development program and the 2020 event will soon be upon us. The Summit will once again be held at Carson Springs Retreat Center in Newport, January 17-19. It's going to be a great weekend and all YOKE Folk are encouraged to attend. Here are three things we want to accomplish together.
We want you to be refreshed. It's a weekend that you can get away and spend time being encouraged by your friends. Hopefully, you can take some time off work, put the school books away for a weekend, and just have some fun. Plus, you'll have a chance to take the title of YOKE Bowling Champs away from the Halls team.
We want you to enjoy community. YOKE to be more than just a service opportunity; it's a community. The Summit is a chance for you to get to know and interact with our staff and other YOKE Folk from around our service area. Friendships are forged through YOKE that will continue to impact your life for years to come, but only if you make yourself available.
We want you to be equipped for ministry. Yes, we want you to be the best YOKE Folk that you can be, so we'll try to help you "do" YOKE better. But we also want to equip you to be better employees, better neighbors, better friends, and better leaders wherever God may take you. We hope that your time with YOKE prepares you for a lifetime of service in God's Kingdom.
Sign up today! If you haven't registered yet, you can do so by clicking here. Register by December 31 to get the early-bird fee of $25. ($35 after that.) Our time together will be enriched by your presence. We look forward to seeing you at Carson Springs!