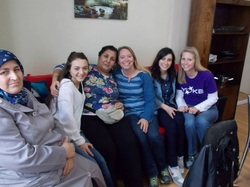 YOKE Staffer Leah McRae in Turkey
Spring Break is a fun time of year for everyone. The ice cream trucks are back out; the parks are full again; children are laughing and playing. For students, spring also affords a week off from school. Each year, in celebration of the warm weather and new life, school systems and universities shut down for a week to appreciate the opportunity to be outside again. For YOKE it makes for a boring week, but for our YOKE folk it gives the opportunity to serve the Kingdom outside of Knoxville. Many of our YOKE folk take the opportunity off from school to go across the country and around the world with their churches or schools. This year we asked our traveling YOKE folk to take pictures of themselves in their YOKE T-shirts wherever they go. Here are the stories that go with some of the pictures we received. 
YOKE staffer Leah McRae and Farragut Middle YOKE Folk Sarah Jackson went to Turkey this spring break with their church. While in Istanbul they worked to build relationships with locals.