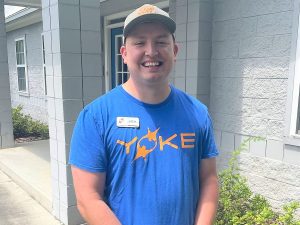 Join us in welcoming Josh Bisig to the YOKE team! Josh and his wife, Angela, are parents to two boys, Lock and Asher. While Josh is new to staff, he's no stranger to YOKE. In fact, he credits YOKE's ministry for a lot of his own spiritual formation. "When I began serving with YOKE as a teenager, I was still trying to figure out who I was and how God could use me in ministry," Josh recalled. "I was a stubborn know-it-all (and can be still), but through YOKE I built relationships with both peers and mentors who met me with grace and helped me to grow in my own faith, even as we served students together."
Josh has always been passionate about students but wasn't sure if vocational ministry was really for him. He decided instead to pursue a career in business and became a manager with McAlister's Deli. Even in this role he stayed connected with YOKE, frequently helping with catering and donations. Despite success at work, the pull toward ministry remained strong and in 2021 he returned to Camp BaYoCa as a full-time staff member – a position that ultimately led him back to YOKE.
In his new role, Josh will be coordinating YOKE's ministry in Jefferson and Grainger Counties. This will involve recruiting and training volunteers, building relationships with local churches, and serving as the main point of contact for 5 (so far) schools.
"I love camp ministry, but the position with YOKE is a much better fit for me and my family, so I jumped at the opportunity," explained Josh.  He's excited about reaching out to middle school students, and about providing young leaders with the same encouragement and direction that he benefitted from all those years ago. "YOKE offers a real community where young people can be accepted, but also equipped and challenged to live out their faith in a meaningful way," explained Josh. "That's something that I'm very excited to be a part of."
For more information about how you can be involved in YOKE's ministry in Jefferson or Grainger County, contact Josh at 865-522-6907 or josh@yokeyouth.com