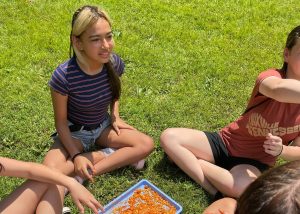 YOKE's relationship with Camp BaYoCa spans decades. BaYoCa hosts YOKE's spring and fall camps each year, and we've held Summer Adventure programs there also. This year, though, we decided to partner together for a special week of middle school camp. The result was more students for Camp BaYoCa, new connections for YOKE, and an awesome opportunity for kids and YOKE Folk to connect during the summer.
With the camp fully staffed, our team simply planned to take turns helping and making sure that YOKE was visible to the kids. For Annie Brown, YOKE's Blount County director, that plan changed suddenly Monday morning.
Josh Bisig, BaYoCa's assistant director ran up excitedly. "I need help!" he pleaded. "Does anyone here speak Spanish?"
Annie, who lived and served short-term in Honduras, thought she knew enough to be helpful, so she crossed the bridge with Josh. There she met 14-year-old Alana and her family. Originally from Venezuela, Alana crossed the border with her dad and stepmom just 6 months ago and settled in Sevierville last month. Though Alana didn't know any English, they thought a week at camp might help her adjust and make new friends. (Bold, huh?)
After helping Alana get settled, Annie hurried home to pack a bag for the week. Along with extra clothes and a toothbrush, she rummaged around for her dictionaries and her bi-lingual Bible. She added some Spanish language songs to the camp playlist and took time each day for "Spanish Words with Annie," teaching the campers some basic words and phrases they could practice with Alana. She even arranged for Alana to check in with her mom back in Venezuela.
Though this is a bit of an extreme example, it's not unlike the work that YOKE does every day – removing obstacles and crossing barriers to connect with students wherever they are to share the love of Jesus with them. It's work that we do happily, even though at times it causes discomfort.
"I didn't go out to Camp Monday morning to serve as a translator and it wasn't something that I was entirely comfortable doing," said Annie. "Sometimes loving your neighbor involves becoming uncomfortable in order to make them comfortable."
We don't know what the future holds for Alana, but we are sure that she experienced Jesus last week in a way that she'll never forget. YOKE continues to work with the family, helping them connect with resources, local churches, and other Spanish speaking believers. Perhaps the other campers will also be changed because of their cross-cultural experience.
For skit night, Alana's team chose the name "Las Fuertes," or "the strong women." We couldn't think of a more fitting name for Alana – or Annie.