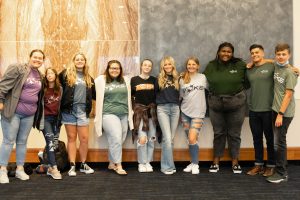 Mark your calendar for YOKE's 2022 Banquet, presented by Pilot Company! This year's event is scheduled for Tuesday, September 13th at 6:30 pm at the Knoxville Convention Center. Together we'll celebrate 45 years of ministry in East Tennessee. There is no charge to attend the banquet, but there will be an opportunity to invest in the life-changing ministry YOKE.
The banquet is a great opportunity to introduce your friends to YOKE. We'll provide a glimpse of YOKE culture and the impact that our ministry has on kids, schools, churches, and communities. Together we'll celebrate all that God has done over the past 12 months, look ahead at what the future might hold, and provide an opportunity for folks to get involved.
There are several ways that you can help with this year's event.
Come and be our guest. Simply click the button below to register now.
Sign up to host your own table. There is no charge to host a table. Hosts simply commit to filling a table of 10 with friends who would be interested in knowing about YOKE and might have the capacity to invest in the mission. Our online registration system makes it easy to invite and register your guests. Click the button below to register and select the option to host your own table.
There are still opportunities for your business, church, or civic organization to help sponsor the event as well. Contact YOKE for more details.
All proceeds from the banquet benefit the ongoing ministry of YOKE in Knox, Blount, Loudon, Anderson, Jefferson, and Grainger Counties. For more information about how you can be involved, contact us at 865-522-6907 or yoke@yokeyouth.com.