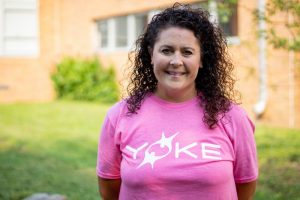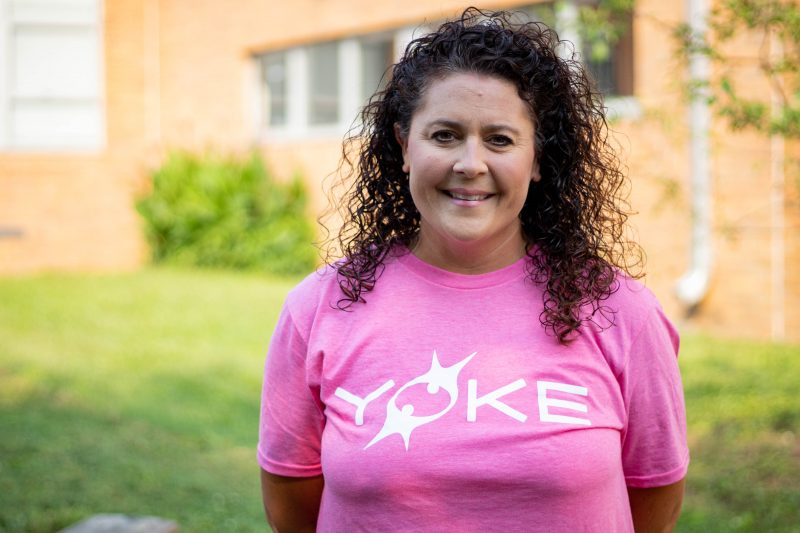 We have a saying at YOKE: Once a YOKE Folk, always a YOKE Folk. And we mean it. Serving alongside others produces a special bond, and the YOKE family often becomes the place where young leaders find their community. Lifelong friendships – even marriage relationships – have resulted.
Our current YOKE Staff, with the support of our board of directors, would like to do more to intentionally foster this community. To that end, we've created the new position on staff of Alumni Development Coordinator, and we could think of no one better to take on this new role than Stephanie Enger.
Stephanie was a YOKE Kid at Powell Middle not too many years ago. She was a future folk during her time at Powell High and later served as a YOKE Folk and Team Leader for 7 years. In 2003, she left teaching to join the staff of YOKE and has been here ever since.
Our goal is to better connect our vast network of YOKE alumni and to keep them more informed of and engaged in what YOKE is doing today to advance the Kingdom. With her years of YOKE experience, Stephanie is already in relationship with many of them, but she looks forward to reconnecting, spending more time with them, and hopefully engaging them better in what YOKE is doing today. "After 45 years of ministry, YOKE alumni are all over the world," explained Stephanie. "I'm really excited to see where everyone is and what they've been up to."
"Of course, we want to serve our alumni community by connecting people and resources," said Stephanie. "But I also want our alumni to know that the mission of YOKE has never changed. We're still connecting middle school students to Jesus and changing their lives for eternity. I think that's something our alumni will want to be a part of."
If you ever served with YOKE, we'd love to hear from you! Contact Stephanie at 865-522-6907 or stephanie@yokeyouth.com to see how you can impact the lives of students in East Tennessee.