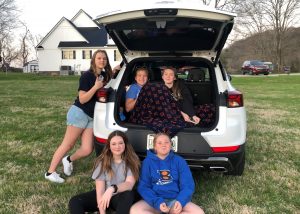 Grainger County, home to only 23,000 people, is one of the smaller counties that YOKE serves. Its only middle school, Rutledge Middle, is still home to one of YOKE's bigger clubs and it's led this year by Allison Nickels. Allison first joined the team at Rutledge at the encouragement of YOKE's founders, John and Helen Coatney. She was hesitant at first, but decided that, if a small investment of her time could make an eternal difference in the life of a student, it was worth the effort.
Participation at the Rutledge club, like most YOKE clubs, is down some from pre-pandemic levels, but still averaged more than 30 students a week. The team of YOKE Folk, most of whom were YOKE kids themselves, looks forward to their time with the students each week – time which extends well beyond club time. "When club is over, we take as many kids as we can from the school over to the church," said Allison. "There we have another hour or so to hang out together before youth group starts."
The relational investment is paying off. Three Rutledge students have made decisions this year to follow Jesus. One young lady recently prayed to accept Christ on a Wednesday night after club and the youth meeting. Two more made commitments following YOKE's Spring Camp. "God is doing big things in small counties," said Allison.
Allison shared that they've seen God at work so much through their YOKE club, that the team has just come to expect it. "We've seen the same kids continue to come to clubs, camps, and our kid time events, growing in their relationships with God and with each other, we just start every club expecting God to do something."
For Allison, it boils down to what Jesus referred to as the second greatest commandment, to love your neighbor as yourself. "We all live in the Rutledge community, so these kids are our neighbors," she explained. "You never know what they might be going through – sometimes middle school students are our most neglected neighbors."
Thinking back on how hesitant she at first was to get involved, Allison wishes more young leaders like her would give YOKE a chance. "It's an amazing ministry with amazing kids," she said. "It really is an honor to love and serve them."
For more information on how you can serve your neighbors through YOKE, contact Program Director Sarah Scheafnocker at 865-522-6907 or sarah@yokeyouth.com.