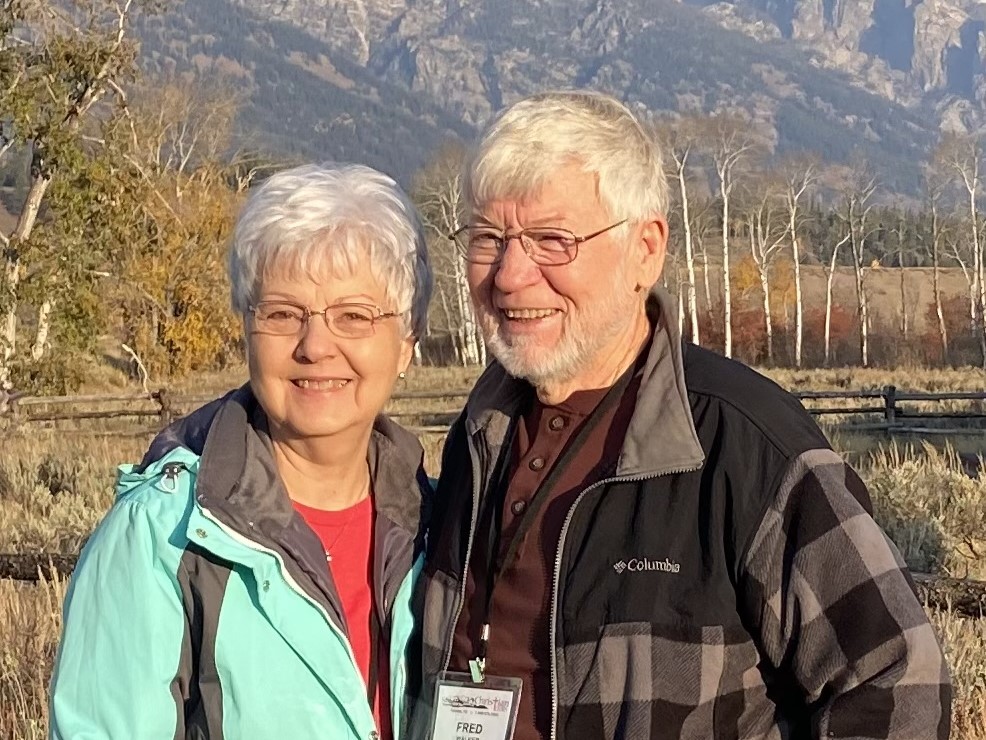 Fred and Judy Walker have long been friends with John and Helen Coatney and have been around YOKE since the beginning. For years, Judy served as YOKE's secretary and John credits her with creating many of the systems that are still in place at the office. Fred was the program director and the speaker at YOKE's very first camp weekend with students from Christenberry and Northwest. Fred and Judy helped organize the first YOKE Banquet, held just up the street at Washington Pike UMC. They did everything from cooking the meal to decorating the tables. "They are very valuable teammates," said John. "They did a lot of groundbreaking work for YOKE."
Now in his 80s, Fred wants alumni to know that he and Judy are still active, teaching about Jesus every week at their church, Buffat Heights Baptist. He identifies as semi-retired, but still watches over the property business that he started after leaving the trucking industry in 1990. Fred and Judy love to travel and look forward to a Mississippi River boat cruise next year. They have 4 grandkids and 4 great grandkids scattered around the country.
During their years with YOKE, Fred spent most of his time at Beardsley and South Doyle. Judy was at Spring Hill until it closed and then moved to Holston. Judy loved spending time with "her girls." Fred recalls them always having groups of girls over at their house, but specifically recalled a time when Judy was teaching the girls how to make donuts. He is still amazed at Judy's patience as the girls succeeded in covering Judy's clean kitchen with powdered sugar.
Judy's favorite YOKE memory was when her team decided to take their kids on a hiking trip. Judy decided to join at the last minute and had to run home for a change of clothes. During the hike, Judy was lagging behind with a student who was having a hard time keeping up when it started to rain. Most of the group made it back to the bus before it got too bad, but Judy and her young friend finished in the pouring rain.
Fred remembers keeping a pig in their house in preparation for camp. "Judy would raise the pig in the house and baby them just like a child," he said. She would take the pig to camp, care for it, walk it around on a leash, all in preparation for the finale, a pig kissing contest. Judy even trained one of the pigs to turn his head as YOKE Fok came in for a kiss so he could get them right on the mouth.
Fred's favorite memories though, are the times when kids made decisions to follow Jesus. "My little cousin, Laura Biddle, was there talking with her leaders, and I stood outside that building in the dark praying for them," Fred recalls. "She decided to follow Jesus right there at Camp BaYoCa that night." That little Laura Biddle would go on to be a YOKE Folk, team leader, and MVP, and her daughter, Emma, became a YOKE Folk as well. In 2022, she was honored with the YOKE Servant Leadership Award.
Fred says he never felt worthy of sharing the Good News of Jesus but knew that's what he was supposed to do. "A pastor once told me that all I was doing was introducing kids to Jesus," he remembers. "He said I was just the mouthpiece and God would take care of the rest. That took all the pressure off." Fred admits that, even at the age of 81, he still has a place in his heart for middle school students. "Once you open your heart to kids it just consumes you."