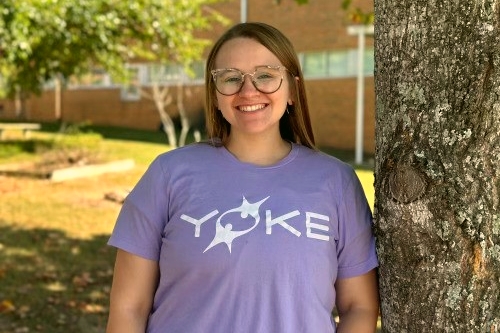 Join us in welcoming Cayleigh Anderson to our staff! Cayleigh is excited about directing YOKE's ministry in the community that she calls home, Blount County. Though she is new to staff, she has been a valuable part of the YOKE family for a long time. We asked her to share her story in her own words.
My journey with YOKE began in 6th grade. I guess I was a typical middle school student – crazy, adventurous, and a little hyperactive, but definitely searching for the place that I belonged. I wouldn't have said that we were poor, but my mom and dad were always working to make ends meet.
I remember my 6th grade open house in vivid detail. Union Grove Middle School was brand new, so I was excited about being there. My parents both had to work that night, so my grandfather took me. The YOKE table caught my eye as soon as we entered the building. The YOKE Folk there were friendly and welcoming. The pamphlet they handed me had three smiling girls on the front. I easily imagined myself in that picture and thought if I could just make two friends at YOKE, I'd be set.
Our after-school club was small back then. There were only a handful of students involved, so we developed deep relationships with each other and with our YOKE Folk. Camp that fall was a real turning point for me. I remember that the theme was "boot camp" and the speaker talked about raising your white flag and surrendering your life to Jesus. As we sang Amazing Grace that night, I stepped out to speak with my YOKE Folk and surrendered my life to follow Jesus. YOKE gave me my very first Bible, one that I still use today.
YOKE has always been my community. It was – and still is – a place that I belong. It's a safe place where I can be myself, but also where we learn and grow together. As I moved into high school and then college, becoming a YOKE Folk myself was just a natural transition. I wanted to be there for the students that came behind me just like my YOKE Folk had been there for me.
For the past seven years the Lord has been working on me, showing me the gifts he has given me and allowing me opportunities to use them. While I have been volunteering with YOKE ever since I left middle school, I have been praying that God would give me a bigger opportunity to use my gifts and experience to grow the Kingdom in my community.  I had no idea what that might look like as a new wife and mom, but I wanted to be an example to my son of the Lord's faithfulness. When I heard about this position with YOKE in Blount County, I immediately felt like God was revealing his plan for me. 
A lot has changed over the years. I've gone from being a YOKE Kid to being a YOKE Folk to being a part of the YOKE staff. I've been around long enough now that some of the first kids I mentored are serving as YOKE Folk themselves. But so much remains the same. YOKE Kids are still having fun, still finding their place, and still being transformed by the Good News of Jesus. I am eager to engage young leaders like the ones I had and help equip them to walk with a new generation of middle school students as they discover their identity and purpose in Christ. 

For more information about getting involved with Cayleigh in Blount County, contact her at 865-522-6907 or cayleigh@yokeyouth.com.