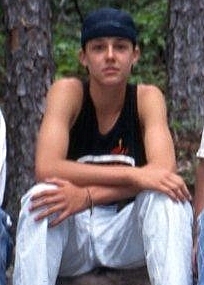 I was that YOKE kid. I hardly missed a club, never missed a camp, and went on every summer adventure. I was even lucky enough to be able to go on my first backpacking trip with YOKE. But here is the thing – I don't have a lot of specific memories from YOKE club or camp. So why would I say that YOKE is one of the most impactful activities that I participated in during middle school? Because of my YOKE Folk and the time they spent doing the little things. I have very vivid memories of my YOKE folk walking in to the cafeteria at Halls Middle school to eat lunch with us. I remember my YOKE folk wanting to take me home after club. This wasn't necessary; my family had transportation. He simply wanted to spend time with me. Again, I don't remember what we talked about on that ride home or at that lunch table, but it was time. It was the time that someone older invested in me.
Busy as I was with sports and band, I was not able to participate in Future Folk. I moved to middle Tennessee for college, so being a YOKE folk was out as well. When I moved back to the Knoxville area I was living and working at Camp BaYoCa. During my time there, I reconnected with YOKE but was still unable to volunteer due to my work responsibilities. When my time at camp ended, I started a career in parks and recreation and though my connection to YOKE was never distant, we resisted all invitations to serve. I was now married and living in Knoxville and commuting to Pigeon Forge for work. Heather and I used many of the same excuses for not volunteering that I hear today.
So, how did I end up at YOKE? Heather would tell you that I was never satisfied with my work, that I was always looking to make an eternal impact. I enjoyed working for parks and recreation and felt I was doing good work, but not the work that I was called to do. I connected with Chris Edmonds at one of YOKE's banquets and had a brief conversation with him about bringing YOKE to Pigeon Forge. We had planned to follow up on this idea, but when his phone call came it was not about bringing YOKE to Pigeon Forge; Chris wanted me to interview for YOKE. I went for the interview and was offered the job. I turned it down initially, but immediately asked myself why. Just hours later I contacted Chris and asked him if the job was still available. Thankfully it was.
As I look back at my YOKE story what I realize is that since middle school YOKE was always there. Even during high school and college when I was not able to be involved, I worked with several YOKE Folk at Camp BaYoCa. God kept weaving my YOKE story together preparing me for what I do today. I enjoy many aspects of this chapter in my YOKE story, but more than anything, it is still the stories that come from the time that our YOKE Folk spend with YOKE kids that energize me. I'm motivated by the opportunities I have to hear from YOKE Folk how God is using our program to develop them personally.
Knowing that God has been writing this story for a long time confirms the calling that has always been there. My hope is that, by sharing my YOKE story, you'll be encouraged in yours. I don't know what chapter of your story God is writing, but be assured, He is writing it. He has a plan for you and, no matter what chapter you are on and where the story has led you, He loves you and has plans for you. And maybe, there is yet a chapter titled "Working at YOKE" in your story, too.