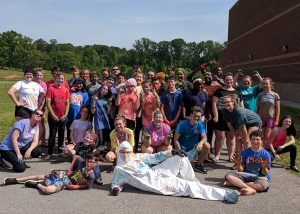 Jacob and Margaret Daniels grew up in Blount County and were high school sweethearts. Now, as a married couple, they enjoy serving together, both in the youth ministry of Marble Hill Baptist Church and for the last 8 years as YOKE team leaders at Union Grove Middle School.
Over the last couple of years, their YOKE club has averaged nearly 50 kids every week, but that has not always been the case. When they first began serving with YOKE, Jacob and Margaret were recruited to lead a team of seasoned YOKE Folk. "As new team leaders we learned from our YOKE Folk for most of our first year," Margaret recalled. "We had a great team that helped us a lot as we were figuring out how to run a YOKE club."
After that first year, Jacob got deployed, so the Daniels took a year off from YOKE. Actually, Union Grove took the year off, since no other leaders were identified. So, when Jacob and Margaret returned, they had to start again from scratch. Only 3 students showed up for their first club, but rather than get discouraged, they got to work.
Jacob and Margaret credit the growth of their club from 3 students to 50 students to a few factors.
A consistent presence at school events. A major turning point for the Union Grove team was when they showed up at the school's open house at the beginning of the school year to share with parents about YOKE.
Collaboration. They also began to partner with other clubs and organizations that were involved on campus to spread the word about YOKE. Between this and the open house, the team quickly began to see results in the number of students that were coming to club.
Invest in the kids you have. Margaret had a word of encouragement for other YOKE teams that struggle to attract kids. "Never forget that one kid matters," she said. "If your YOKE Folk are truly investing in that one kid, it will grow from one to two, from two to four, and so on. That's how it happened for us."
To hear more of their YOKE story, you can listen to our conversation with Jacob and Margaret on our podcast, YOKE Talk. Be sure to subscribe to YOKE Talk on Apple Podcasts so that you can hear more stories from the people who are investing in middle school students through YOKE all throughout our community.