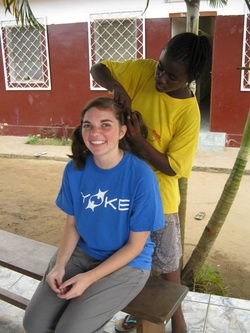 At YOKE we are blessed to have some of the most amazing college students and young adults join our ministry and serve the middle school kids of East Tennessee.  Seriously, you cannot imagine the caliber of the students God sends us!  Truly the best of the best!
It's always a sad day when students graduate and move on from YOKE and college – selfishly we hate to see folks go!  On the other hand, it's exciting to see where God takes folks on their journeys of serving Him.  There are YOKE Folk literally all around the world serving the Lord!  From East Tennessee to the WORLD!!
Sarah Kate Couch is one of these YOKE Folk!  Sarah Kate graduated this past May from Carson Newman College. While in school she was a YOKE Folk at White Pine School and loved on the kids there for several years.  Her energy and creativity helped make White Pine's club one of the best!  Just a few weeks after receiving her college diploma, Sarah Kate left the US and took a position serving on board one of the Mercy Ships. These days you'll find Sarah Kate floating just off the coast of Western Africa providing much needed medical care and social services to the people of the Democratic Republic of Congo.  Sarah Kate is observing and aiding in surgeries, helping with educational programs on HIV/AIDS, serving orphans in local orphanages and being the hands and feet of Jesus! 
If you know Sarah Kate, you know her sweet spirit, happiness, and joy is contagious.  No doubt she is impacting her shipmates and all those she meets for her Savior!  Please remember to pray for Sarah Kate as she serves.  While this is an exciting adventure you know there are times she misses the comforts of home, her friends at Carson Newman, and the "normal life in the States" she's left behind.
You can follow her blog at: 
http://thereandbackagainsk.tumblr.com/
YOKE is so thankful for people like Sarah Kate.  We are so thankful to have been part of her story and that she has been a part of YOKE's!!