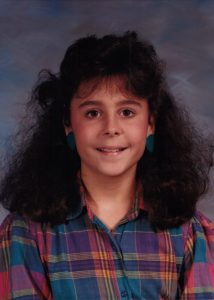 When I was in eighth grade my cheerleading coach, Lee Fersner Harms, called to tell me about a new club called YOKE that was starting at Powell Middle School and invited me to go with her. (Powell was the eighth YOKE club started out of 31 clubs meeting today.) Several weeks later she began to drive me and my sister, Melanie, a sixth grader, to and from club each Tuesday. The songs were fun, the skits were hilarious, and the YOKE talks—or devotions at the end of club–challenged me.  My friends and I also spent a lot of time outside of YOKE hanging out with Lee and riding around Powell in her yellow convertible Volkswagen Cabriolet. I had so much fun with my YOKE Folk at Powell that I even gave up going to my eighth-grade prom to attend YOKE Camp that spring. The camp theme, the Hogwood Arts Festival, I fondly remember to this day.
In high school I continued my involvement as a Future Folk, YOKE's leadership training program, and became a YOKE Folk my freshman year of college. One of my favorite memories is getting to be a YOKE Folk for my younger brother Joseph at Powell, where I served l for seven years. During that time, I met and married my husband, Eric, and we began serving together. After college we moved to Anderson County, where I was employed as a teacher, and we started the club at Norris Middle. I wanted my students going into middle school to have mentors like I had and to be introduced to Jesus. In 2003 my dream came true when God opened the door for me to begin working for YOKE.
As a college student, I knew that I was called to missions. For a long time, I thought that meant I would serve God in a foreign country. I really wrestled with that for a while asking God to send me abroad. One day as I was praying about this, He clearly showed me that we had been serving in missions all along through YOKE, and I knew I was right where He wanted me. Some of my favorite verses are Matthew 9:37-38: Then he said to his disciples, "The harvest is plentiful, but the workers are few. Ask the Lord of the harvest, therefore, to send out workers into his harvest field." Today I continue to coordinate workers for the harvest field of middle school students I meet every day, those students that attend the Norris and Robertsville clubs in Anderson County, and Powell, Halls and Gibbs clubs in Knox County.
I've learned so many great things over the 25 years that I've been involved with YOKE. Among these are how to love and mentor middle school kids and lead them to Jesus, what it means to have a consistent quiet time, how to develop leaders, how to give a YOKE talk, how to plan YOKE camp, and how to build relationships and engage others in the mission. When I think of my favorite YOKE memories, my mind is flooded with the faces of students I've been able to connect to Christ. My job at YOKE can be summarized by one of my favorite verses, Ezekiel 22:30, which says "I looked for a man among them to stand in the gap…" That is what I am passionate about and what I get to do every day—stand in the gap for middle school students.