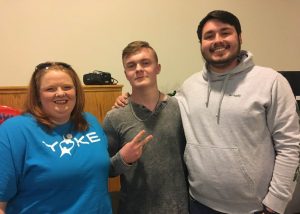 Recruiting, training, and mobilizing enough leaders to fully staff 31 clubs is a massive effort and takes a lot of our time, energy, and resources. As you might imagine, the further away we move from college campuses, the greater the challenge becomes. These challenges can be mitigated, however, by developing our own local leaders in each community and our team in Grainger County is showing the way.
The team at Rutledge Middle School, one of our most remote locations, has been together for a while, long enough, in fact, for several former YOKE Kids to now be serving alongside their former leaders. "We have a lot of fun at club," said team leader Andrew Hodge, "but we still look at the kids as leaders and help them along the way."
Five years ago, when Andrew started serving with YOKE, he began leading a Bible study with a handful of students. That group has grown to more than 20 and this year 3 members of the original group will join the team as YOKE Folk. One of the young men has even surrendered his life to vocational ministry.
Andrew is thankful for YOKE's Future Folk program and the impact that it is having on his own team. They are already looking forward to the fall when a total of 5 former YOKE Kids will join them, bringing their total number to 13. "It's really cool to see it all come full circle," Andrew explained. "We've been investing in them for years and now we have the privilege to serve as teammates alongside them as they invest in the next generation."
"We'll never stop recruiting new leaders for the program," clarified YOKE's program director, Eli Cockrum. "But our goal has always been to raise up the next generation of leaders in each of the 31 communities that we serve. That's the way to keep the movement going and Rutledge is proving that it can be done."
For more information on your local YOKE Club, visit our clubs page. To learn more about Future Folk or to register for the program, visit our Future Folk page.