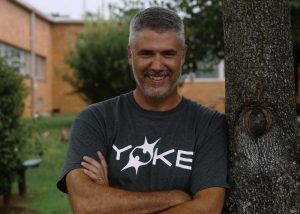 Thanks for taking a few minutes out of your day to catch up with YOKE and keep us in your prayers. As our ministry continues to adapt to our ever changing environment, you can be sure that we are doing everything that we can to connect safely with kids, encourage our leaders, and enrich our local schools. We are so thankful for the leadership of our board of directors, the partnership of the Knoxville nonprofit community, and the faithful prayers and generous support from folks like you.
We shared with you last month that the financial challenges caused by the coronavirus pandemic had resulted in a $60,000 gap in this year's budget. We're happy to report that a matching gift from a generous donor has helped up make up much of that gap. You can read all about that in this month's letter.
We're hopeful that our rescheduled YOKE Golf Classic can help make up the rest this month. The event will be held Friday July 17th at Three Ridges Golf Course. For all the information on how you can be involved, check out our event page. Pray that God will continue to provide for YOKE through this event. 
We still don't know what school or clubs will look like this fall, but we're continuing to press on and recruiting new YOKE Folk is a big part of that effort. Check out Jacob Adams' story in this month's letter and make sure to share it on your social media or pass it along to people you think might be YOKE material. Pray that God would help us raise and recruit a great team of YOKE Folk! 
Thanks again. Now, more than ever, we're grateful to have you on the YOKE team!